Rohingya Repatriation: It's time to share responsibility
Momen urges OIC members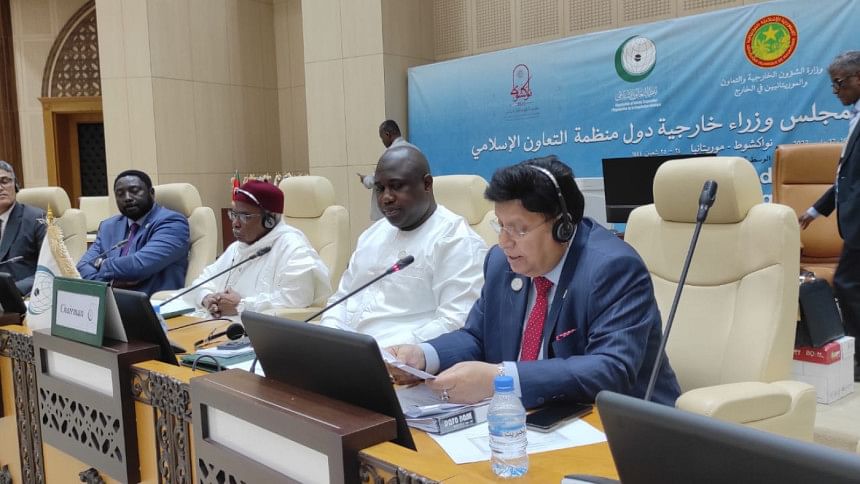 Foreign Minister AK Abdul Momen has called for OIC member states to share collective responsibility to ensure safe and dignified return of Rohingyas to their homeland.
He made the call during a meeting of the Organisation of Islamic Cooperation (OIC) held yesterday in the Mauritanian capital Nouakchott, on the margin of the 49th OIC Council of Foreign Ministers.
The meeting of OIC's ad-hoc ministerial committee was on the accountability for human-rights violations against the Rohingyas.
During the meeting, Gambian Foreign Minister Mamadou Tangara updated the status of the Rohingya-genocide case, filed by the Gambia against Myanmar with the International Court of Justice to hold Myanmar accountable.
He also presented the status of the member states' voluntary contribution and summary of the fund required to continue case proceedings.
Momen reiterated the importance of Rohingya repatriation to avoid a transnational socio-economic catastrophe, especially the derailment of thousands of youths' future.
While thanking the Gambia and OIC for their support for legal action, he shed light on the importance of ensuring the momentum to provide justice to Rohingyas.
He also called for member states to share the burden by contributing voluntarily for the case's legal expenses.
The meeting was attended among others by representatives of Saudi Arabia, Turkey, Nigeria, Indonesia, Malaysia, Iran, Egypt, and Pakistan.
Momen also had bilateral meetings with his counterparts in Cameroon and Mauritania. Besides, he held a courtesy meeting with the UN Assistant Secretary General for Middle East, Asia and Pacific Mohamed Khaled.