Road divider or death trap?
Median causing accidents in Patuakhali-Kuakata highway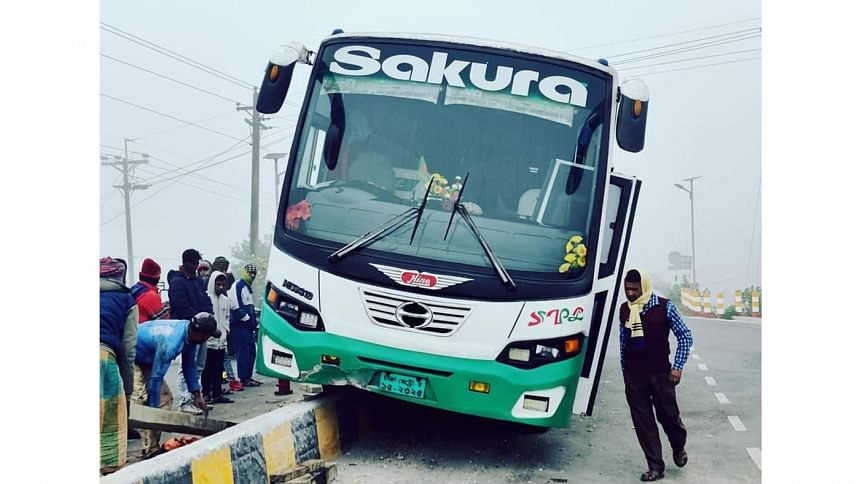 Roads and Highways Department (RHD) recently constructed a new six-lane road in Patuakhali's Kalapara upazila, with a divider to prevent collisions among motorists. Ironically, the divider has apparently been serving the exact opposite purpose.
Due to its small size, poor positioning, lack of proper reflective paint and effective warning signs, the divider is causing far too many accidents, according to locals.
The new road connects Rajopara area of Kalapara on Patuakhali-Kuakata highway to Payra thermal-power station, and the 50-metre long divider has been built at the entry point of the road at the Rajopara end.
In the last one week alone, at least 20 vehicles have accidentally rammed into the divider, confirmed Officer-in-Charge of Kalapara Police Station Md Jasim Uddin.
Many have been injured, while people fear that lives may be lost if authorities do not remove the median.
Abdul Mannan, a local, said, "Whenever I pass by this road, I see damaged vehicles and injured passengers more often than not... They are happening because of the divider. It needs to be removed immediately."
Shahidul Islam, a bus driver who plies Patuakhali-Kuakata highway, said, "As the height of the divider is only two feet, it isn't clearly visible from the driver's seat. As a result, cars and buses regularly collide with the divider."
Other bus drivers demanded the divider be demolished immediately before any major accident occurs.
Patuakhali RHD Executive Engineer AM Atiq Ullah said, "The local administration, including police, have also informed us about the accidents. In view of this, both sides of the divider have been marked with adequate painting."
"As accidents are not decreasing, arrangements are being made to remove the divider as soon as possible in consultation with higher authorities," he added.