Rising onwards and upwards
First women fishers cooperative in Khulna, against all odds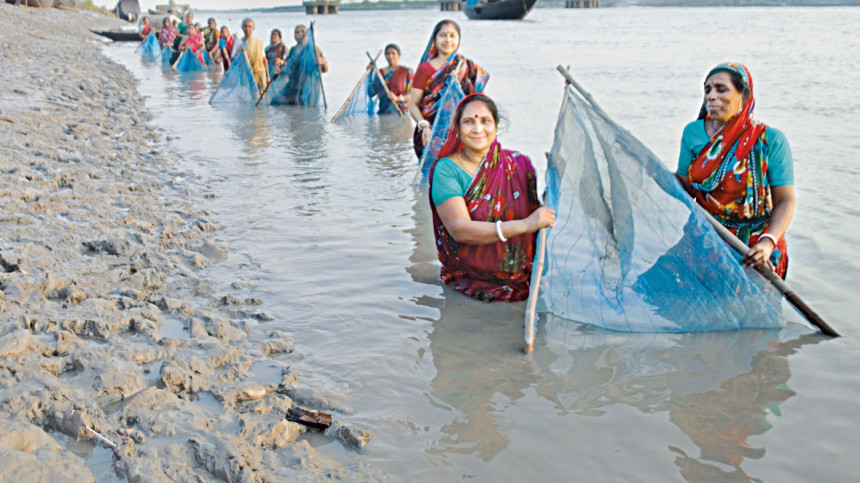 Right on the bank of the Kapotakkha stands a quintessential fishermen village named Hitampur. Poverty is quite rampant. As Manik Bandyopadhyay once wrote, "God does not come to Jelepara (fishermen's neighbourhood)", it is, indeed, an everyday battle.
Bandana Biswas (48) got married at the age of 14 when she was in the ninth grade. She used to go fishing in the river with her husband, who was from Hitampur of Paikgachha upazila in Khulna, to support the family from the very beginning of their life together.
Her husband, Poritosh Biswas, died of cancer five years ago. His treatment was expensive, which pushed the family into debt.
However, what she did not lack was morale. She pushed the family out of the misery with her efforts and got her daughters married.
She dreamt of more women becoming self-reliant in the area. Leading from the front, Bandana formed the first women fisher's association in the country.
"I led a family deprived of the most basic needs myself. So I wanted my sisters struggling with scarcity to fight as one," said Bandana, president of the society.
"We were struggling to stand up individually. Now we are united in our fight against poverty," she added.
Development organisation Uttaran, in collaboration with Manusher Jonno Foundation, funded by the UK's FCDO, has co-sponsored for registering the first Women Fishers Cooperative Society.
Uttaran has helped them throughout the process of getting official registration, said Mallika Biswas, vice president of the society.
The first step was to open a bank account and start saving money. On June 8, 2021, the cooperative participated in the open bidding for Kurulia Jolmohal (water-body) in Paikgachha and won the tenancy for three years, bidding with Tk 25,358.
"We have already been allotted a 25-acre water mahal with the government's cooperation, and released fisheries worth Tk 75,000 this year," said Bandana.
"Hopefully next year we will apply for one more (Jolmohol)," she said.
The society is currently a family of 23 women, wanting to be financially self-sufficient and contribute to their families and society along with the men, according to Bandana.
Almost everyone in Hitampur Jelepara has received a fisherman's card. The men go fishing in the deep sea, on the coastal island of Dublar Char, for five months every year.
The women are the ones to run the families at the time.
"There are 5,100 cooperatives in Khulna. But this one is exceptional because it is led solely by women," said Joyantee Adhikary, district cooperative officer of Khulna.
"We want to encourage more women fishers in Paikgachha and Koyra upazila, where hundreds of women are engaged in the occupation,'' she added.