Restore canals, revive Dhaka
Atiqul tells discussion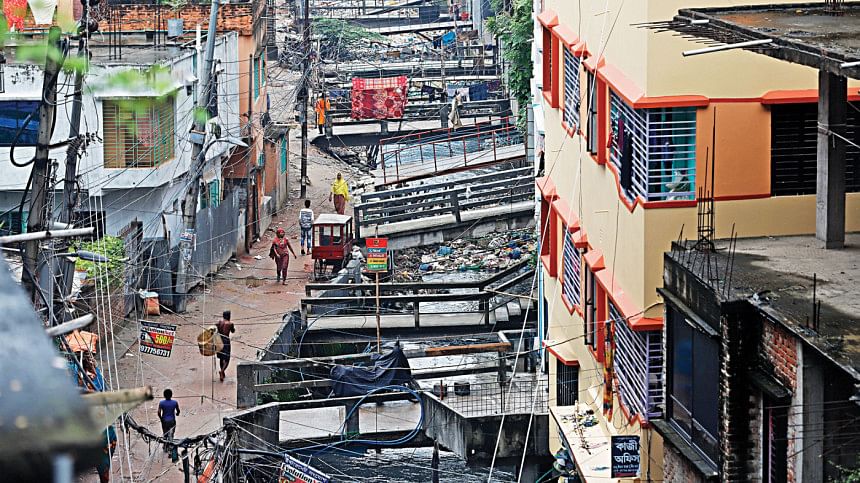 Dhaka North City Corporation (DNCC) Mayor Atiqul Islam yesterday said authorities will revive Dhaka "from its deathbed" by reclaiming all the canals.
They will do so by following the cadastral survey (CS), a comprehensive land document that shows demarcated boundaries.
If rivers can be demarcated by CS, why can't the same be done for canals, he questioned.
"I want canals to be demarcated using CS. Otherwise, Dhaka can't be saved. A canal I saw is 10-foot wide, but its actual width should be 110 feet. If we go for a nature-based solution, we have no way but to restore the canals to their original state," he said.
Atiqul was speaking at a roundtable titled "Population Density, Liveability and Sustainable Development", organised by Bangladesh Institute of Planners, ahead of World Town Planning Day.
The mayor criticised the National Housing Authority for turning the playground on Mirpur's Paris Road into a housing block. The playground was recently freed from occupation.
"The children came back to the playground joyfully, which shows that more playgrounds and open spaces are needed. If we just keep building concrete structures, shrinking open spaces, we won't leave a liveable city for the next generation," Atiqul added.
He urged everyone to unite against ill-efforts to grab rivers, canals and open spaces.
Local Government, Rural Development and Cooperatives Minister Md Tazul Islam, chief guest of the roundtable, said authorities are planning to turn all Dhaka canals into waterbodies like Hatirjheel.
DAP NEEDS PROPER COORDINATION
Minister Md Tazul Islam called for cooperation and coordination to execute the Detailed Area Plan (DAP).
He said authorities are ready to correct 10 percent of the DAP, while all stakeholders agree with the rest of the provisions.
"It has been clearly mentioned where and whose cooperation will be required for the DAP. All government bodies have to come forward to make the DAP a reality," he added.
The minister said a team led by Salman F Rahman, adviser to the prime minister, discussed the DAP for two hours, agreeing with most of the plan's details, with a suggestion to correct 10 percent of the provisions.
Tajul said they incorporated the idea of block-based housing to save open spaces. This provision accrued some criticism from citizens."The idea is not new. It's been in practice globally. We all just conformed to the global standard."
The minister also underscored the need to address the reasons behind people's influx into the capital. "People come to the city for education, medical treatment and jobs. If we are able to ensure such facilities at the district level, the inflow will decline."
Ishrat Islam, dean of architecture and planning at Bangladesh University of Engineering and Technology (Buet), said the DAP has suggested five water-centric parks for Dhaka.
Ashraful Alam, planner of Rajuk and project director of the DAP, said as part of decentralisation, the DAP has divided the city into six metropolitan regions. Six new parks have been suggested, which will make the city liveable.
Nasir Uddin, member of planning of Rajuk, said Dhaka could be turned into a liveable city using the DAP. For that to happen, cooperation from all government bodies is needed.
Md Anisur Rahman Miah, chairperson of Rajuk; Anisul Hoque, associate editor of Bangla daily Prothom Alo; and Nazrul Islam, chairperson of Nagar Gobesona Kendro, spoke among others.