Repatriation is the only solution
Momen tells regional meeting on Rohingyas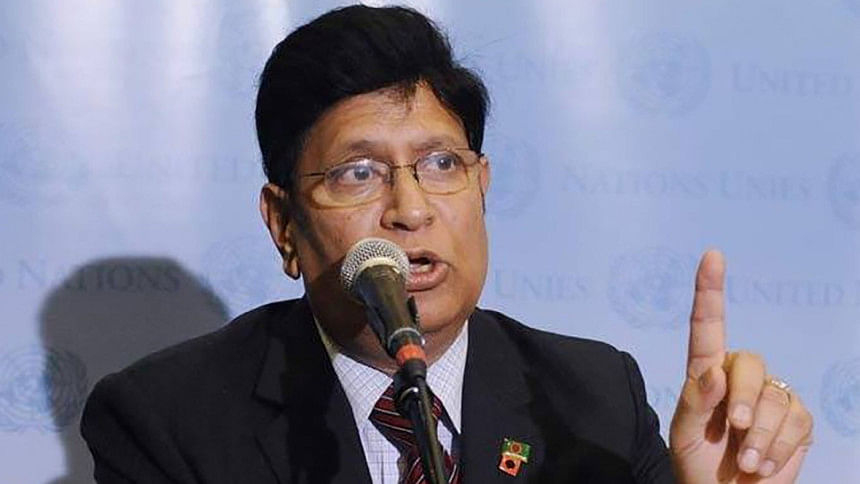 Foreign Minister AK Abdul Momen has urged international communities to meaningfully engage in improving the situation in the Rakhine state, while boosting humanitarian support for Rohingyas in Bangladesh.
"Safe, voluntary and sustainable repatriation is the only solution…" he said while addressing an event organised by UN Refugee Agency in Thailand on Tuesday.
UN High Commissioner for the Refugee Filippo Grandi; UK's Minister of State for Indo-Pacific Anne-Marie Trevelyan and the US Deputy Assistant Secretary of State for Population, Refugees and Migration Julieta Valls Noyes were also present.
The meeting took place ahead of the Global Refugee Forum in December, at a time when funding for Rohingyas is declining. Merely 40 percent of the budget has so far been met, which is a sharp drop from 60-70 percent in previous years. Rohingya repatriation has also been stalled since the largest influx in 2017.
Currently, an initiative through mediation of China is underway, with authorities planning to start repatriation by this year. However, the US -- the biggest donor for Rohingyas -- says there should not be any forced repatriation.
Momen also sought UN cooperation to realise the rights and expectation of Rohingyas to return to Myanmar.
Grandi said voluntary repatriation is the solution to the crisis and assured to continue efforts to achieve that objectivity.