Repatriation only solution to Rohingya crisis: Speakers say at webinar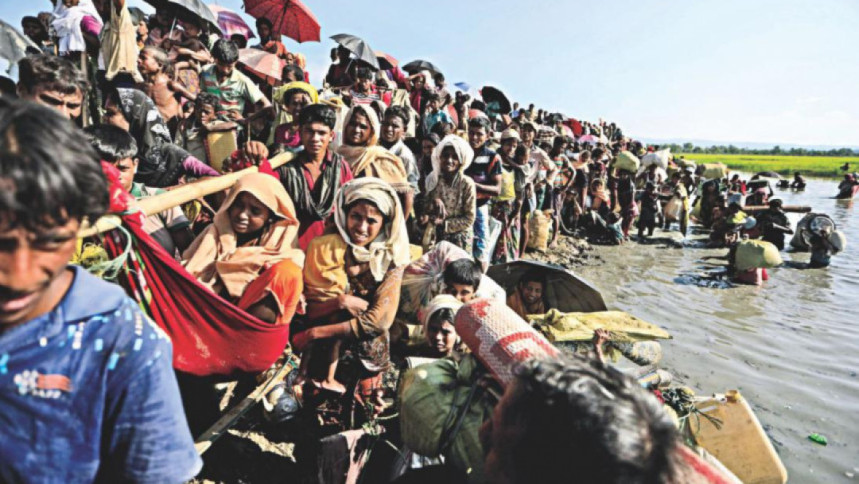 Repatriation is the only solution to the Rohingya crisis and international communities must mount pressure on the Myanmar authorities to resolve the crisis, speakers said today.
They also urged the international communities to end double standards on resolving the Rohingya issue.
Academicians from various fields including international relations, geography, disaster science and management, social sciences, environmental sciences and peace and conflicts made the call during a webinar.
Department of Disaster Science and Management, University of Dhaka, and Institute for Risk and Disaster Reduction, University College London (UCL) jointly organised the webinar titled "Rohingyas in Bangladesh: Socio-Political and Environmental Perspectives" today.
The webinar focused on various sociopolitical, environmental, repatriation issues, and hazard risk aspects of the relevant areas.
Presenting a paper, Professor of Department of International Relations Dr Imtiaz Ahmed asked if the international communities can impose sanctions on Iran or North Korea then why sanctions cannot be re-imposed on Myanmar?
"It is a double standard policy. It is not good for the international community. If you have contradictory role, people will not take you (international community) seriously," he said.
Professor Ahmed said the Rohingya diaspora should be engaged in the repatriation process and suggested the Rohingya diaspora choose several leaders instead of one to avoid being a target.
"The Rohingya leadership should be a civil entity of a diverse group. There are windows of opportunities for the international community to put pressure on the Myanmar authorities to resolve the Rohingya crisis. And, there is no other option but repatriation to resolve the crisis," he noted.
Professor Dr A S M Maksud Kamal, Department of Disaster Science and Management (DSM) and also Pro-Vice Chancellor (Academic) of Dhaka University, said that due to Rohingya influx, deforestation occurred that causes flash flood, land erosion and regular fire incidents in the camp areas.
Due to hill cutting, deforestation and unplanned settlement in the camps, the camp area lost around 70 percent protected vegetation after 2017, professor Kamal said.
He also said in 20 years return period, around 10 percent camp area are susceptible to experience landslide and in five years return period 10,500 shelters, in 10 years return period 17,600 shelters and in 20 years return period 38,000 shelters are at risk of landslide.
He said the sooner the Rohingyas are repatriated the better for both Bangladesh and Myanmar.
Professor Dr. Kazi Matin Ahmed of the Department of Geology at University of Dhaka, said groundwater is a vital resource for sustaining livelihood of the host communities as well as providing humanitarian services for the displaced Rohingyas.
There are potential risks to groundwater resource of Ukhia-Teknaf area associated with the Rohingya influx and need to be protected from undesired impacts by undertaking appropriate management plans, he said.
Dhaka University's professor Prof Dr Md Rafiqul Islam said mistrust and grievances of the local community over Rohingyas are increasing day by day.
"To resolve the crisis, there is no other option but repatriation of the entire Rohingya population to Myanmar."
Dr Zillur Rahman, Professor of Department of Disaster Science and Management, talked about Bhasan Char where the government is targeting to relocate one lakh Rohingyas from Cox's Bazar.
The island is tectonically stable, he said adding that from 2014 to 2020, the island has enlarged and approached to rounded shape that seems more stable than the previous years.
"The accredited land is higher than the eroded land indicating the island is becoming more stable," Rahman said.
Professor Sadeka Halim, Dean of the Faculty of Social Sciences of Dhaka University, posed a question: Is Bhasan Char really the answer to the Rohingya problem?
"Bhasan Char is not the answer. We need to repatriate them. We need to have lot of dialogue with our counterparts in the Myanmar like civil societies, academicians and Rohingya diasporas to mount pressure on the Myanmar government for repatriation."
Dhaka University's International Relations Professor Dr Delwar Hossain said, "We need to clearly identify the non-cooperation of the Myanmar government. Myanmar has been showing non-cooperative behaviour as it enjoys support from some of the countries of this region."
He also said even the contradictions of the approaches from the non-state actors are also not helping to put pressure on Myanmar rather making some comments to hinder the repatriation process.
Taking part in the webinar as chief guest, State Minister for the Ministry of Disaster Management and Relief, Dr Md Enamur Rahman said repatriation is the only measure to protect both the host and Rohingya community.