Dhaka boutiques see rise in sales on Pahela Baishakh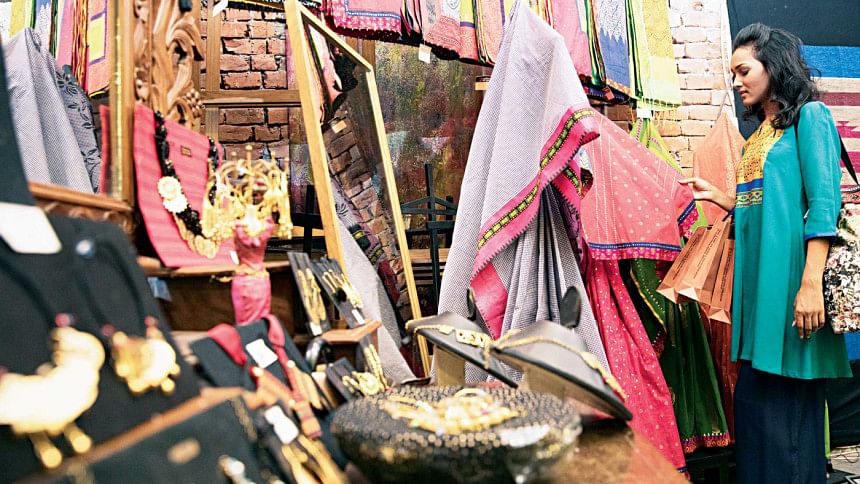 "At least the pandemic has subsided and people are coming back to the stores. We reserved a moderate collection for Baishakh, especially for consumers who want to celebrate the occasion with fervour," said Khalid Mahmood Khan, owner of home-grown apparel store Kay Kraft.
"And it's just not Kay Kraft. Many other fashion stores in the city have also produced their Baishakhi collections," he added.
Eid-ul-Fitr and Pahela Baishakh make up the country's biggest shopping seasons. Although Pahela Baishakh coincides with Ramadan this year, businesses still expect at least 15-20 percent of 2018/19 sales, which were booming before the pandemic.
Eid sales are also expected to pick up creating a hope that the industry can finally recover from the two-year-long slump due to the pandemic.
Meanwhile, customers are also optimistic about the celebration altogether.
Sabera Anwar, an entrepreneur who initiated the "Go Deshi" venture in 2021, said, "In 2021, it [lockdown] was a blessing in disguise for many brands which would have otherwise gone bankrupt. The statistics are slightly different today, at least 60 percent of the consumers are opting to go to brick and mortar stores to purchase products instead of viewing them online. We had to open a Go Deshi outlet this year to cater to their needs."
According to Sabera, the wage rates of the artisans have increased substantially. Monthly wages of artisans have risen by as much as Tk 8,000-10,000. There's a shortage of imported fabrics in the market and the price of cotton has increased extensively.
"On the demand side, consumers are more stringent with their budgets, because of the dreadful pandemic experience. Hence even though the producers are optimistic about the current sales prospect, it will still take a few more years to recover what we have already lost in the last two," she said.
"For us, Baishakh is the New Year. So definitely there is a Baishakhi collection at my store. And I am extremely hopeful that the sales will be satisfactory as well," said fashion designer Chandana Dewan.