Dhaka's Brahma Samaj: Reminiscent of an enlightened past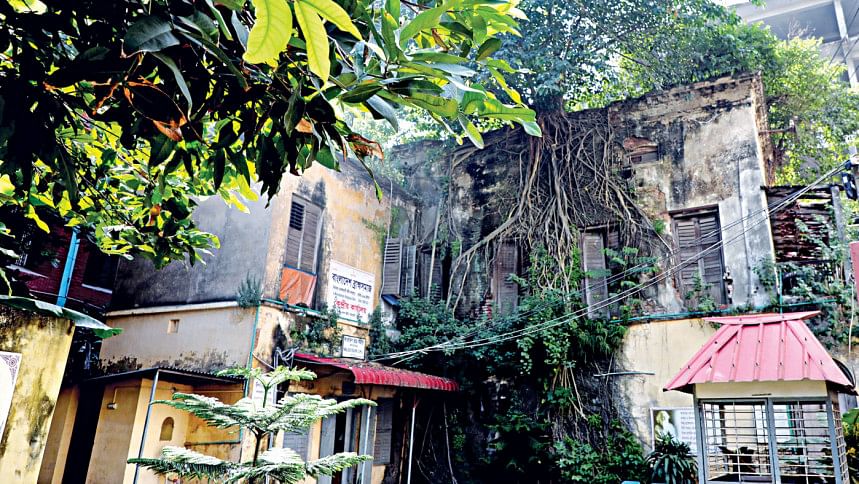 In a corner of Old Dhaka's Patuatuli neighbourhood sits a temple where all faiths are respected, and followers of various faiths join in prayers and ceremonies. The temple belongs to Brahma Samaj, a monotheistic faith that evolved through the reformist movement of Hindu religion during late 18th century.
Founded by Raja Ram Mohan Roy in 1828, Brahma Samaj, from late 18th to 20th century, attracted many urban elites under its banner and pioneered the Bengal Renaissance. Some of the most famous educational institutions in Bangladesh like Jagannath University, Eden College, and Ananda Mohan College were founded by their patrons.
 The temple was visited by many notable followers of this faith, such as Nobel laureate Rabindranath Tagore in 1926, Debendranath Tagore, philosopher Keshab Chandra Sen, Nawab of Dhaka Khwaja Abdul Ghani and many other historic figures. Its library was one of the richest libraries in Bengal, where Bankim Chandra Chatterjee, Dr Muhammad Shahidullah and many other littérateurs and scholars gathered regularly.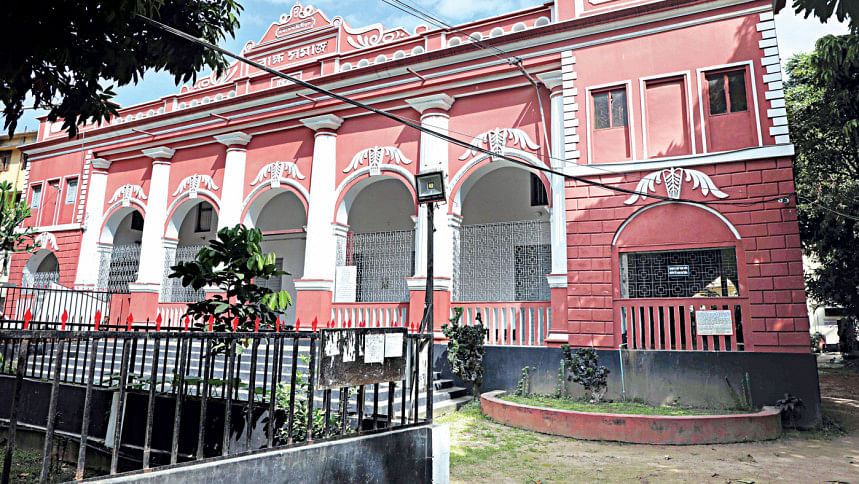 Presently, Brahma Samaj is struggling to survive, due to lack of resources and decreasing number of followers. The samaj is now maintained by a seven-member committee and a seven-member trustee board.
 "At present, the conversion into Brahma belief has completely stopped in Bangladesh. As a result, the number of original Brahma (Brahma by heredity) is also decreasing subsequently," said Dipak Paul, acharya (high priest) of Brahma Samaj.
General Secretary of Brahma Samaj Ranabir Paul said, "Although the number of our followers have decreased significantly, we're practising our faith peacefully all over
the country. We have temples in all the ancient and prominent districts of Bangladesh, and our followers celebrate every ceremony with great religious fervour."
Both Ranabir and Dipak declined to reveal the number of Brahmas in Bangladesh, saying, "It's a secret we cannot reveal, and the number you see in different reports in the media is incorrect."
 "We never preach our faith aggressively among the masses. Rather, if somebody accepts our faith, they are required to practise our monotheistic belief for three years under our observation. Our patrons never focused on increasing the number of followers, rather they focused on doing charitable activities," said Dipak. 
 Brahma Samaj celebrates three big festivals -- birth and death anniversary of its founder Raja Ram Mohan Roy on the first day of the Bengali month Baishakh and 6th day of the Bengali month Bhadra, respectively, and the founding anniversary of the faith on the 11th day of the Bengali month Magh.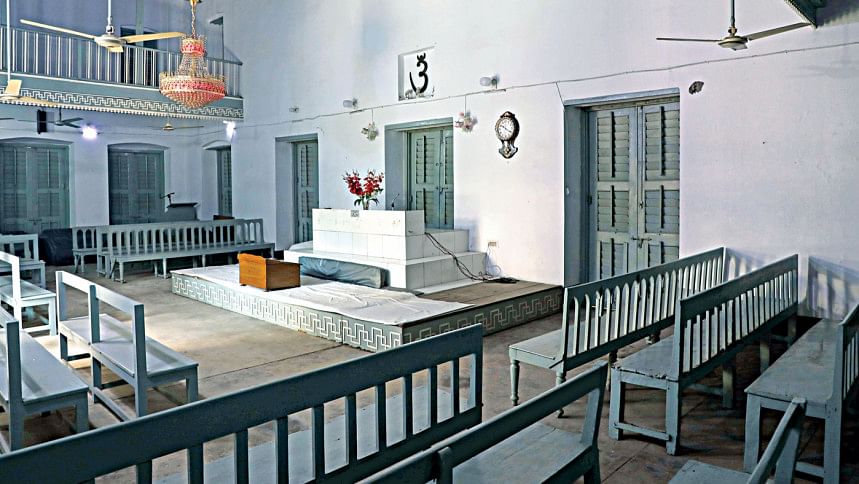 "Since we do not worship any image, idol or a particular deity, people from all faiths, particularly Muslims, Sikhs and Christians, usually join us without any hesitation. They also feel free to join the feast since the food is not 'prasada' (food offering to a deity which is later shared with worshippers)," said Ranabir.
 However, these festivals could not be arranged in the last two years due to the pandemic.
 A weekly prayer is held every Sunday, where the acharya recites from the holy scriptures and sings the holy chants in the prayer hall of the temple.
The prayer hall is a large room equipped with long benches, where men, women and followers from all faiths can sit together to attend the prayer. The acharya stands in the dais to conduct the prayer. There is no image or idol in the prayer hall. Only one holy word, "Om", is written on the wall above the dais, which is a sacred word adopted from Vedic scriptures.
According to noted historian Muntassir Mamoon's book "Dhaka Shamagra", Brahma Samaj was founded in Dhaka in 1846 by a government officer called Brajasundar Mitra.
 In 1865 and 1869, philosopher Keshab Chandra Sen visited Dhaka to preach the belief of Brahma Samaj. His speeches at Ahsan Manjil, the residence of Dhaka's nawab Khwaja Abdul Ghani, inspired thousands of people, particularly Hindu youths, to embrace Brahma belief.
In 1869, the temple was built in Dhaka at the cost of Tk 10,000, due to increasing number of Brahma followers. Dinanath Sen, a renowned teacher of Dhaka Collegiate School played a key role in establishing the temple. 
 In 1871, a library was built on the first floor of the temple. According to Dhaka Shamagra, it was the first public library of Dhaka. According to Ranabir and Dipak, in 1947, the library had 30,000 books in its collection.
Like the Brahma Samaj, this library is also nothing but a skeleton of its former self, since after the 1947 Bengal partition, many of its patrons fled to India. The library was burned to the ground by Pakistan army during the Liberation War.
According to Ranabir, "Almost all of our collections have been destroyed and lost during the Liberation War. After the war, we published advertisements to recover our lost books but  did not get much response."
 Ranabir told The Daily Star that they were unable to use or repair the library building, due to an on-going case over its ownership.
"With the decreasing number of followers, our resources have also decreased, but we're satisfied for the fact that we can practice our faith in peace and harmony,"  he added.