Indomitable March
Remembering Teroshree massacre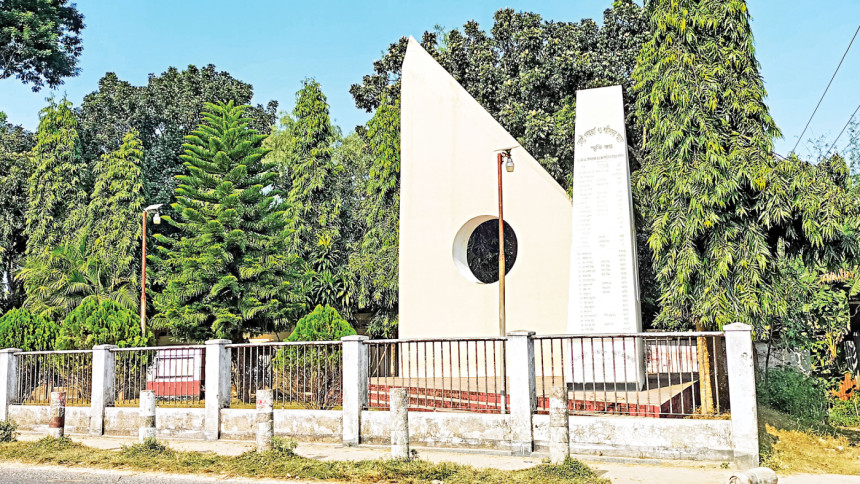 The Liberation War has left our nation marred with atrocious tales. The Teroshree village of Ghior upazila of Manikganj bore testament to such a tale.
At dawn on November 22, 1971, the occupying forces and their locals allies attacked the village, preying on its innocent habitats.
They set fire to houses, shot and stabbed people, and killed more with bayonets. Loud gunshots and cries of the villagers were all that could be heard in that morning.
Forty three people were killed that day. Prominent residents like Siddheshwari Prasad Roy Chowdhury, a zamindar of Teroshree village, and Atiar Rahman, principal of Teroshree College, were killed in the attack.
Advocate Azharul Islam Arzu, a member of Communist Party of Bangladesh's central committee and former president of its district committee, said, "In 1971, many people from surrounding areas took shelter in Teroshree village. A freedom fighters' camp was formed there." He said the people of Teroshree were always active in the country's struggles.
"Teroshree village was a centre of non-communal progressive revolutionaries of the war. That's why the Pakistan army attacked this village," he added.
Retired teacher of KN Institution Someshwar Prasad Roy Chowdhury, son of Zamindar Siddheswari Prasad Roy Chowdhury, shared the tale of that horrific day.
"I was just 12 years old, but I remember everything vividly. Hearing news of the attack, my father took shelter in a laundry house beside our house. But he was found through the local collaborators. The Pakistan army burnt him alive."
"Principal of Teroshree College Atiar Rahman was called from his college room to Teroshree Bazar. He was taken to Mintu Mia's grocery store and stabbed to death. His body was dumped in a pond. All 43 who were killed that day met their fates in similar ways. By noon, the Pakistan forces and their accomplices returned to Ghior after completing their massacre. The locals bore responsibility of burying the bodies in a mass grave."
"After the country became independent, Bangabandhu sent a condolence letter to my mother and provided us with financial support. It was a great honour for my family," said Someshwar.
To commemorate the memory of Teroshree Genocide Day, the "Shaheed Smriti Parishad" was formed in 1994. On December 27 that year, a memorial plaque was unveiled by Someshwar's mother Gayatri Devi Chowdhurani.
Engineer Tobarak Hossain Ludu, former commander of the district unit of Bangladesh Muktijoddha Sangshad, said, "In 2012, the Local Government Engineering Department constructed a memorial in Teroshree at a cost of Tk 25 lakh. The names of 36 martyrs are mentioned there. The other seven couldn't be identified."