'Reinstate Selina, repeal DSA'
Eminent citizens, activists demand at programmes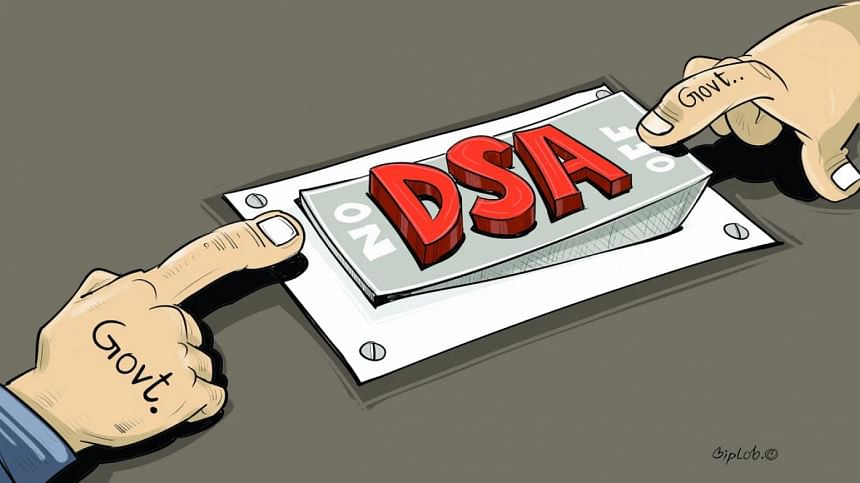 Eminent citizens and cultural activists of Dhaka and Chattogram at separate programmes yesterday demanded the cancellation of the suspension order of Selina Akhter, acting principal of Chattogram Port Authority Women's College, for a comment she made on Facebook.
They also demanded repeal of Digital Security Act (DSA) as it is muzzling people's freedom of speech.
Chittagong Port Authority (CPA) on Sunday suspended Selina Akhter, alleging that her Facebook status on the Arabic word Ramadan has "hurt" religious sentiments.
"Due to your Facebook post, the law-and-order situation in the port area could deteriorate as the religious sentiment of the Muslim community was hurt. Such an act is a punishable offence under the Digital Security Act-2019, gross violation of social media user guideline-2019 and CPA service rules," read the suspension letter.
Protesting the authorities' move, poets, writers, teachers and activists, under the banner Nipironer Biruddhey Shahbagh, held a human chain in the capital's Shahbagh.
Poet Alfred Khokon demanded reinstating Selina in her post as soon as possible.
Former president of Bangladesh Chhatra Union Sharifuzzaman Sharif demanded the scrapping of DSA saying that it is being used to muzzle people's voices.
Meanwhile, cultural activists, under the banner of Sachetan Sangiskrik Karmi, formed a human chain in Chattogram's Cheragi Pahar area.
"This suspension based on a social media post is evidence of the dictatorial and undemocratic nature of the ruling class," said Sharif Chouhan, general secretary of Workers Party of Bangladesh Chattogram unit.
Playwright Mostafa Kamal Jatra said, "Freedom of expression is being stifled by fear of the Digital Security Act. The controversial use of the law against public opinion proved that our fears were justified."
Recitation artist and founding member of Chattogram Abritti Charcha Kendra Rashed Hasan said a fundamentalist group is threatening Selina Akhtar based on the Facebook post. "We urged the law-enforcement agencies to act against the miscreants".
Besides, Chattogram chapter of Chhatra Union and Samjtantrik Chhatra Front held separate rallies in the port city on the same day.