'Regularise, recognise sub-agents'
Lawmakers, activists urge govt to ensure ethical recruitment of migrant workers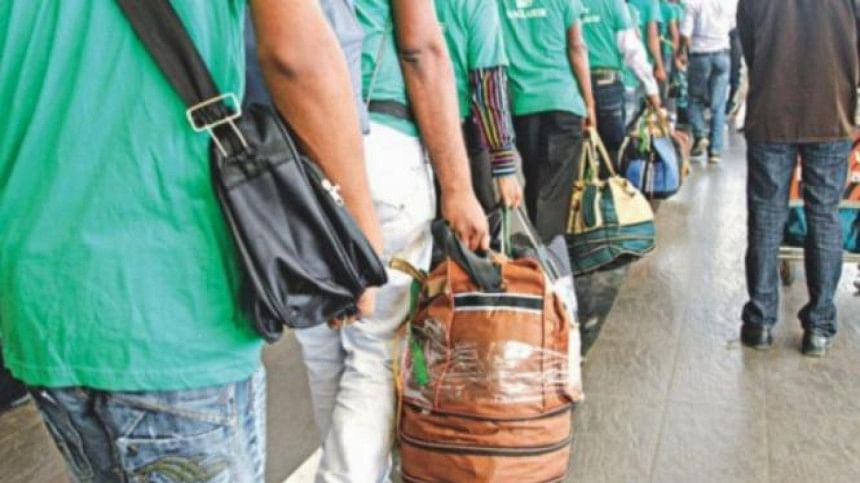 Lawmakers and migrant rights activists yesterday said the government needs to regularise sub-agents or middlemen in the labour migration sector in line with the relevant law to address fraudulence and ensure ethical recruitment practices.
They also said despite incidents of fraudulence, migrant workers largely depend on sub-agents for various tasks during their migration abroad. However, sub-agents largely remain unaccountable since they are not recognised by law.
Speakers made the remarks during a roundtable on "Ensuring Ethical Recruitment: Regularisation of Middlemen", organised by Refugee and Migratory Movements Research Unit (RMMRU), in collaboration with Bangladesh Parliamentarians' Caucus on Migration and Development (BPCMD) at Parliament Members' Club in the capital.
They suggested the government raise the issue during the 9th meeting of Thematic Area Working Group (TAWG) of the Colombo Process on Ethical Recruitment to be held in Dhaka on August 24-25.
Colombo Process is a regional platform of Asian-labour sending countries, while Bangladesh is currently chairing TAWG.
While presenting the keynote paper, RMMRU founding Chair Prof Tasneem Siddiqui said they have prepared three separate models on regularising sub-agents and placed those before the government, namely registration by Bureau of Manpower, Employment and Training (BMET) to sub-agents nominated by recruiting agencies, registration by BMET to sub-agents processed by District Manpower and Employment Office, and registration by BMET to sub-agents nominated by Baira.
Referring to their previous study, Prof Tasneem said sub-agents provide 17 different services to migrant workers. Recruiting agencies to take the services of sub-agents but they "procure" that informally.
Stressing the need for regularising sub-agents, lawmaker and Chair of BPCMD Barrister Shameem Haider Patwary said if regularisation of sub-agents were done earlier then the sector would contribute more.
Stressing the regularisation of sub-agents, Tanvir Shakil Joy, AL lawmaker from Sirajganj-1, said further discussion can be held to find out the process.
He also said the plight of Bangladeshi female migrant workers should be addressed in different regional and global forums.
Shakirul Islam, chairperson of Ovibashi Karmi Unnayan Program, said recruiting agencies should take the whole responsibility for workers' migration.
For regularising sub-agents, recruiting agencies can prepare separate lists or ask their apex body Baira to make a combined list, while BMET can monitor the process, he said.
Syed Saiful Haque, chairman of Warbe Development Foundation, said to regularise sub-agents, lessons of good practices can be taken from other labour-sending countries.
Addressing the event, Shahidul Alam, BMET director general, said sub-agents can play a "complementary role" to the government in ensuring safe and orderly migration.
Several sub-agents also spoke at the programme sharing their different challenges, while RMMRU Executive Director Prof CR Abrar, and lawmakers Gloria Jharna Sarker and Sanowar Hossain also spoke among others.