Rain stopped, sufferings did not
Low-lying areas in port city waterlogged for 3 days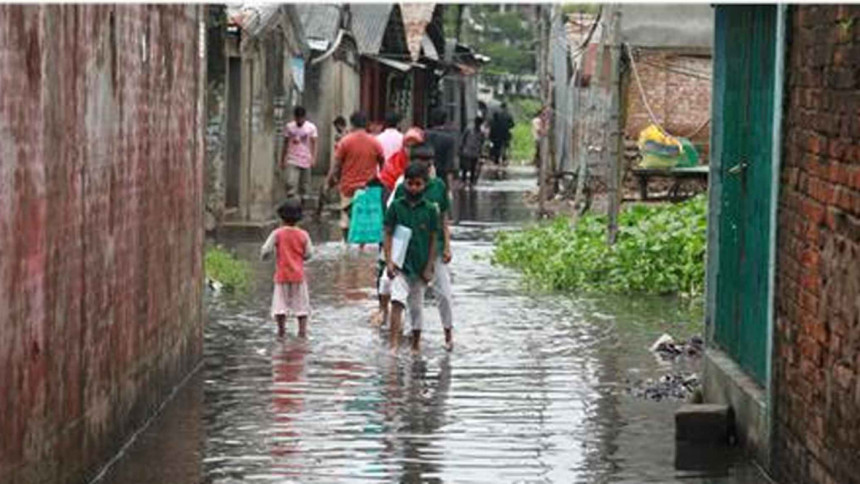 Even though the torrential rain took a break in the port city, the sufferings of residents did not. Many low-lying areas in the city are still under knee-deep water.
Water is yet to recede in many areas, including, Halishahar, Agrabad, Chandgaon, Bakalia Bara Miah Masjid lane and Rahattar Pool Ujir Ali Shah by lane till yesterday  afternoon.
Residents in these areas have been confined in their homes for three consecutive days.
Mahmuda Khatun, a resident at Ujir Ali Shah by-lane in Rahattarpool area, said, "All the valuables in the house have been damaged in water and all my family members have been taking refuge in our neighbour's house."
"The ground floor water tank has been submerged, so we don't have any drinking water in the house," said Abdul Mabud, another resident of the same area.
"We're confined by water for three days... there's water everywhere but not a drop for us to drink," said Sheuly Dey, another resident in the area.
"I don't understand why the water hasn't receded yet," said Kutub Uddin (60), a resident at Bakalia Bara Miah Masjid area, adding, "We've faced waterlogging before, but never a situation as grave as this."
"Who do we ask these questions? No authorities concerned have visited the area to see our sufferings in three days," he said.
Contacted, CCC Mayor Rezaul Karim Chowdhury said, "The Chattogram Development Authority (CDA) has been implementing a mega project to address the city's waterlogging.  For this, they filled up canals in many areas and made temporary dams."
"I asked them frequently to remove these dams and earth from the canals before the start of the rainy season so that rain water can recede smoothly."
CDA removed some dams from the canals but they didn't remove the earth and so, the water may not be receding quickly in the low-lying areas, he said.
CDA chief engineer Hasan Bin Shams couldn't be contacted for comments.
Meanwhile, Bishwajit Dey, a Chattogram Met Office official, said though rain may occur in the next 24 hours in Chattogram, it would not be torrential.
"Chattogram skies may seem clearer from tomorrow," he said.