Price hike of essentials: Is war the real cause?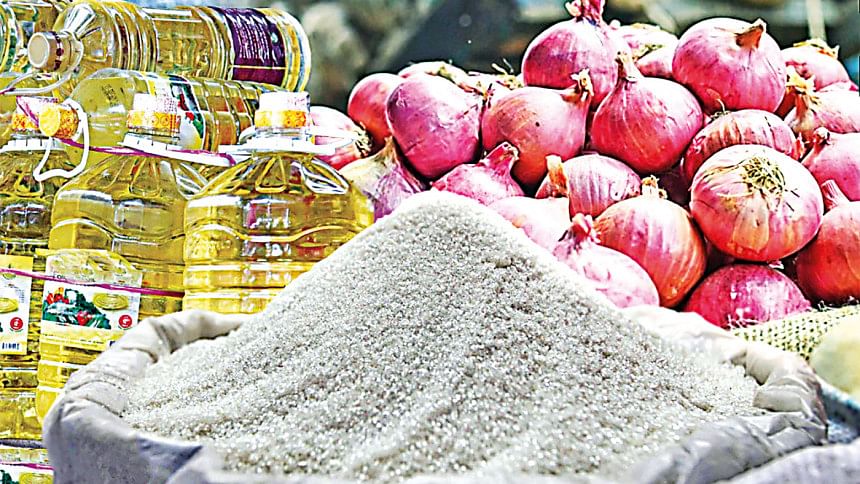 "The prices of essentials have marked a rise not only in Bangladesh but also elsewhere in the world due to the Covid-induced recession in the global economy."
A section of traders is cashing in on the ongoing Russia-Ukraine war to hike  prices of essentials that were already becoming costlier, market  insiders said.  
The prices of wheat, peas, lentil, chickpeas and  other essentials have been going up at the country's major trade hub of  Khatunganj in Chattogram for over a week following the Russian invasion  of Ukraine.
This has set off a ripple effect on retail markets in the port city and elsewhere in the country.
Experts  argued that the Russian invasion that started on February 24 was not  supposed to have an immediate impact as there is around a three-week lag  for such events to affect import.
Furthermore, some commodities  like lentil and chickpea have not been imported at all from these two  countries in the last eight months, but there was a noticeable price  hike of these during the period, they said.
Traders, however, said  commodity prices, which were already rising, saw another round of hikes  following the conflict that hampered the supply chain.
Trade with  Russia and Ukraine has been cut off, resulting in an increase in  purchase orders from alternative markets, they claimed.
They also said several shipments to the country were stuck at ports of Russia and Ukraine.
According  to data from Chattogram Custom House, in the last eight months of the  current fiscal 2021-22till end of February, the country's total import from  Russia stood at 7.83 lakh tonnes worth Tk 3,496 crore.
A total of  179 types of goods are imported from Russia. The major import goods from  the country are wheat, peas, mustard seed, fertiliser, chemicals and others.
In the same period, total import from Ukraine stood at 7.96 lakh tonnes worth Tk 3,973 crore till February.
The  major imported goods from Ukraine are wheat, peas, powdered milk,  sunflower oil and seed, rapeseed,  etc. which are  among a total of 44 types of goods.
World food prices hit a record  high in February, a 20.7 percent increase year-on-year, led by a surge  in price of vegetable oils and daily products, said the UN food agency  FAO on Friday.
SM Nazar Hossain, Consumers Association of Bangladesh (CAB) Chattogram chapter president, said traders have  thousands of excuses for price hikes.
"They are now capitalising on the war illogically to make extra money.
"The  district administration is yet to start any drives to monitor the  market. Without regular market monitoring throughout the year, it is not  possible to control product prices in any way."
Bangladesh  imported 14.66 lakh tonnes of wheat, 3.95 lakh tonnes of peas and 3.37  lakh tonnes of mustard seed and canola seed and 4,428 tonnes of  sunflower oil in the first eight months of the current 2021-22 fiscal  year, till February.
During that time, around 40 percent imported  wheat, 47 percent of peas, 40 percent of mustard and canola seed and 20  percent sunflower oil were imported from Russia and Ukraine.
Apart  from these two countries, these commodity items are usually imported  from countries like Canada, India, Cyprus, Italy, Argentina, Belgium,  the US, Australia, etc.
In January and February, 3.37 lakh tonnes of wheat, 90,000 tonnes of peas, and 13,000 tonnes of mustard seed arrived in the country through the Chattogram port.
Visiting Khatunganj trade hub yesterday, it was found that prices of  different varieties of wheat had risen considerably in the last two  weeks.
Price of wheat imported from Russia, India or Ukraine was  found to have increased by Tk 150 per maund (around 37kg) in the last  two weeks and was being sold at Tk 1,250 a maund in Khatunganj.
The price of Canadian wheat rose to Tk 1,710 per maund yesterday, against Tk 1,500 a maund two weeks ago.
Traders at the wholesale hub were selling peas at Tk 49 a kg, up from Tk 45 around 10 days ago.
Wholesale traders were found selling mustard seeds at Tk 90-95 per kg, compared to Tk 70-75 per kg a week ago.
Although  no lentil was imported from the war-torn region in the last eight  months, there was a sharp upward trend in prices of all varieties of lentil in  the last 10 days.
The price of good quality locally grown lentil rose to Tk 122 per kg in Khatunganj, against Tk 116 two weeks ago.
Medium category Indian lentil was selling for Tk 91 per kg yesterday, up from Tk 88 a kg 10 days ago.
Biswajit  Saha, director for corporate and regulatory affairs of leading  commodity importer City Group, said commodity prices in the global  market were on an upward trend for quite some time now due to huge  increase in freight rates.
The conflict in Ukraine made the market a bit more volatile, he opined.
Canadian wheat price, which was $450 per tonne in the first week of February, rose to $520 at the end of the month, he said.
Sources said wheat price in India has recently increased by $60 per tonne to reach $360 per tonne in the span of a month.
Chittagong Chamber of Commerce and Industry (CCCI) President Mahbubul Alam had the same thoughts.
He, however, said any type of artificial crisis or price hike by unscrupulous traders need to be checked.
The price hike in the wholesale hub already has an impact on the retail market.
Mohammad  Aziz, a retailer at Karnaphuli CDA market, was found charging Tk 125 for  a kg of good quality lentil, against Tk 120 two days back.
He  said on February 23 they bought lentil for Tk 116 a kg from Khatunganj,  but the price has already risen by Tk 6 per kg at the hub, which  prompted them to raise prices too.
In the capital's Karwan Bazar  wholesale market, the price of 5-litre bottled sunflower oil  was found  to have risen to Tk 1,680 yesterday from Tk 1,420 two weeks ago. Peas  now cost Tk 55 a kg as opposed to Tk 50 a week ago. Meanwhile, mustard  seeds were being sold for Tk 110 per kg, up from Tk 100 a week ago.
Chattogram  Additional Deputy Magistrate Sumani Akther said last week they had a  meeting with businessmen, who promised not to increase the prices of  essentials.
Mentioning that they do not have  information about traders charging higher prices, she said, "If it is  the case, we will conduct drives."
The Directorate of National Consumer Rights Protection (DNCRP) conducted a drive in Khatunganj on Sunday.
DNCRP Assistant Director Anisur Rahman said they fined two traders Tk 2 lakh for charging customers high prices.
"Sensing our presence, most traders closed their shops and fled," said Anisur, who vowed to continue the drives.
Our Staff Correspondent Shaheen Mollah contributed to this report