Prepare for pressure on rice
Experts warn against sole dependency on local production amid volatile global market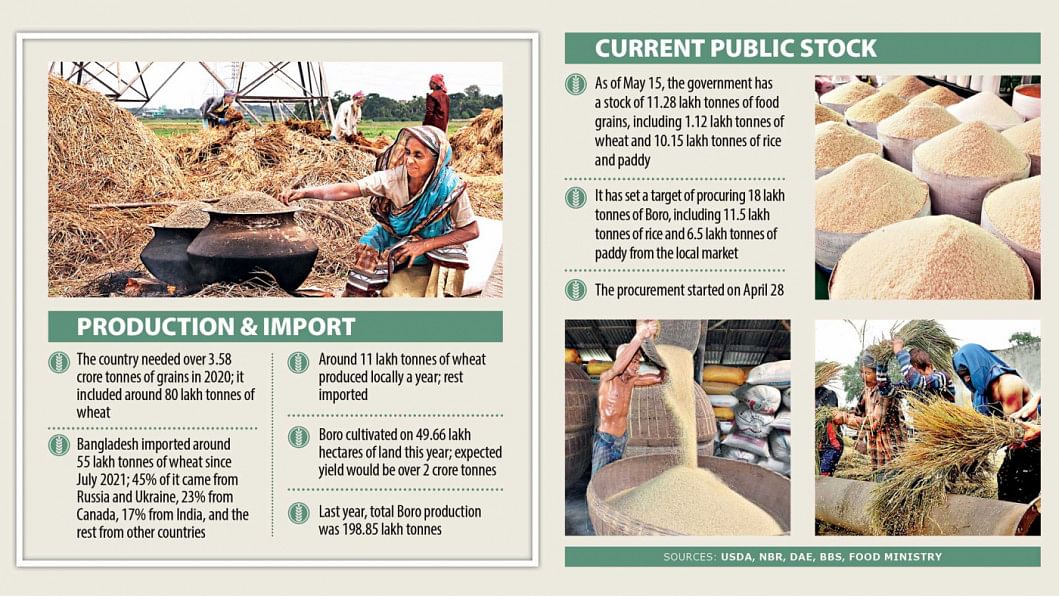 While the government is banking on a good harvest of Boro paddy to bolster its grain stock, experts fear a sole focus on local production may not help ensure the country's food security in the foreseeable future.  
Bangladesh, like many other countries, is feeling the heat of rising food prices, including that of edible oil, in the international market following the breakdown of the global supply chain amid the Russian invasion of Ukraine. 
World food prices rose to a record high in February to post a year-on-year increase by 20.7 percent, according to the United Nations food agency. It continues to climb further up in markets around the world.
Last Friday, the Indian ban on wheat export put the Bangladesh government in a challenging situation to ensure food security and control food prices.
It came barely two weeks after Indonesia's ban on vegetable oil export, indicating other countries may follow suit, said experts, adding that such actions would further drive up the prices of essentials.
In that case, they say, even if Boro production turns out to be good, demand for rice will increase considerably as people will opt for consuming more rice than other essentials, whose prices are already high.
Considering the volatile global market, they suggest the government set aside a good amount of foreign currency and, if necessary, enter the "futures market" in which contracts are signed for delivery on a specified future date.
However, the government has so far taken measures only to procure Boro rice from the local market and import wheat from different countries.
"We are not thinking of importing rice at the moment, as we are procuring Boro rice and paddy from the local market," said Mosammat Nazmanara Khanum, secretary, the Ministry of Food.
"But we are importing 3,00,000 tonnes of wheat from India, as we could not collect wheat from the local market due to the price hike," she added.
The order for importing 3,00,000 tonnes of wheat was placed before India imposed the ban.  
As of May 15, the government has a stock of 11.28 lakh tonnes of food grains, including 1.12 lakh tonnes of wheat and 10.15 lakh tonnes of rice and paddy in its silos.
Experts say if the public food stock goes below 10 lakh tonnes, it leaves a negative impact on the market and prices tend to increase.
The government has set Boro procurement targets at 18 lakh tonnes -- 11.5 lakh tonnes of rice and 6.5 lakh tonnes of paddy -- from the local market.
 "We will consider importing rice if our target is not met," said the secretary.
Last year, the government procured 10.6 lakh tonnes of rice against a target of 11.5 tonnes and procured 3 lakh tonnes of paddy against a target of 6.5 lakh tonnes. The procurement prices of paddy and rice were Tk 27 and Tk 40 a kg respectively. The rates are the same this year.
This year's procurement started on April 28.
The Directorate of Food procured 4,909 tonnes of food grains till May 15, while the government silos have the capacity to store 19.3 lakh tonnes.
This is only the public stock that the government uses to support economically vulnerable people. The main stock is maintained and handled by farmers and private sector businesses.
'PRESSURE ON MAIN STAPLE'
Though a bumper Boro production ensures food security for several months, things could be different this year due to rising food prices.
Already within 24 hours of India's export ban, wheat prices rose 25 percent in the local market. Since the Ukraine war began in February, imports of wheat from Russia and its neighbouring countries have stopped.
As people are already burdened for months with increasing prices of essentials like diesel, edible oil and grains, among other things, they would not be able to spend much money on a variety of food.
So, the pressure on the main staple will increase in the coming months.
"Consumers will spend most of their food budget on rice. So, the demand for rice will increase in the coming days and the government should keep it in mind," said Khondaker Golam Moazzem, additional research director of CPD.
Referring to the Indian ban on wheat export, he said more such bans from other countries may come.
"After analysing the country's food situation from June to December, if necessary, the government should invest in the futures market to ensure food availability," he said.
He also said adjustment of dollar value with taka is also important to keep the imported food price stable.
Boro, which is harvested in April-May, accounts for more than 50 percent of the total rice production. And the rain-fed Aman rice season brings 38 percent while Aus rice contributes the rest to the annual rice basket.
Dr Asaduzzaman from Bangladesh Institute of Development Studies said there would not be any shortage of rice for the next three months, as Boro is now being harvested.
"The government will now focus on Aman production so that farmers do not face any problem cultivating it. It should be ensured that farmers get fertilisers at a fair price," he said, adding that Aman is very important for ensuring food security.
He also said per hectare rice yield in Bangladesh is lower than in India and Pakistan. "We should increase per hectare production of rice so that we can grow other food items like wheat, oil, and lentils more on spare land."
KAS Murshid, former director general of BIDS, said it was important to replenish public food stocks using both domestic and international sources -- primarily domestic -- because of wide fluctuations in world food prices.
"Besides, future production of cereal and non-cereal food and oilseeds needs even greater attention, while we should also ensure that our foreign reserves are used sparingly since we may need to dip into those to meet critical food or energy shortages as the current global crisis unfolds," Murshid observed.