Police bar protesters from going to Nagar Bhaban
Around 200 people, protesting Dhaka South City Corporation's move to cut down trees on the capital's Saat Masjid Road, gathered in Bangabazar intersection after police stopped them from marching to Nagar Bhaban around noon today.
Under the banner of Saat Masjid Sarak Gach Rokkha Andolan (Movement to Save Trees on Saat Masjid Road), they were marching towards DSCC's headquarters.
But when they reached Bangabazar intersection, police barred them, reports our staff correspondent from the spot.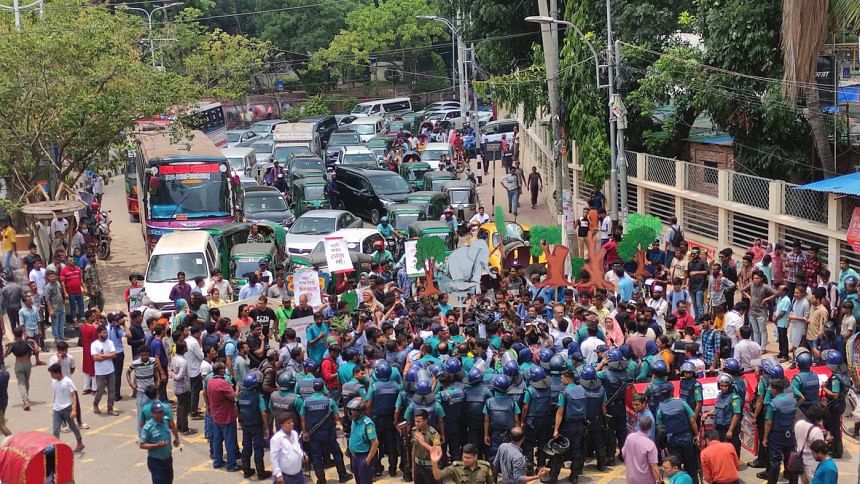 DSCC Chief Executive Officer Mizanur Rahman went to the spot and were addressing the protesters when the report was filed around 12:30pm.
Chief Executive of Bangladesh Environmental Lawyers Association Syeda Rizwana Hasan was present there.
The protesters told the CEO that they wanted to talk to DSCC Mayor Sheikh Fazle Noor Taposh.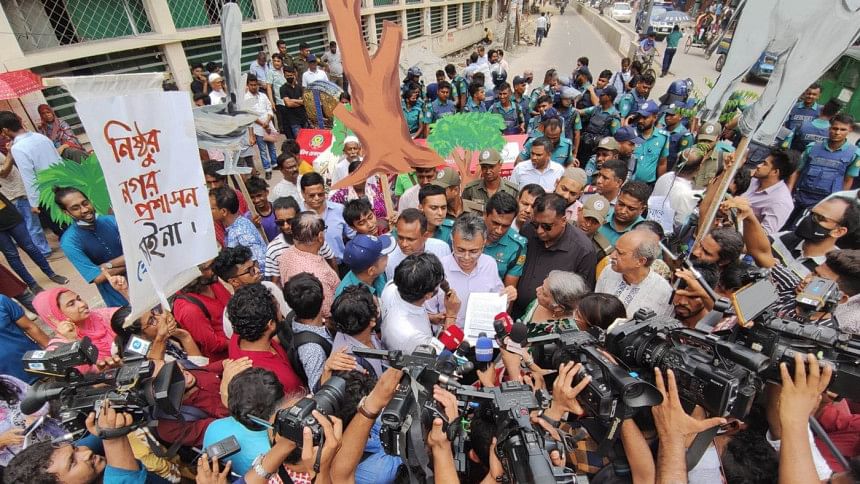 The CEO however told them that the mayor was in a meeting, and it would not be possible for the protesters to meet him, adding that he would convey their demands to the mayor once the meeting ends.
The protesters will hold a briefing in this regard later in the day.
Various social, cultural, environmental, student and youth organisations have joined the protest programme under the platform.
On May 3, the platform held a human chain in front of Dhanmondi's Abahani field protesting against DSCC's move to cut trees in the name of infrastructure development and beautification works at Saat Masjid Road in Dhanmondi.
The trees are being cut from Jigatala to near the Abahani playground under a Tk 9.62 crore project, aiming to develop different infrastructures, including the beautification of islands, footpaths and road medians, and the construction of public toilets, under DSCC.
The project, which commenced on September 20, 2022, is scheduled to be completed by June 30, 2023.
DSCC has cut over 600 trees under this project, including 20-25-year-old Banyan trees till then.