Strictly implement Paris accord
Hasina asks global leaders at UN Headquarters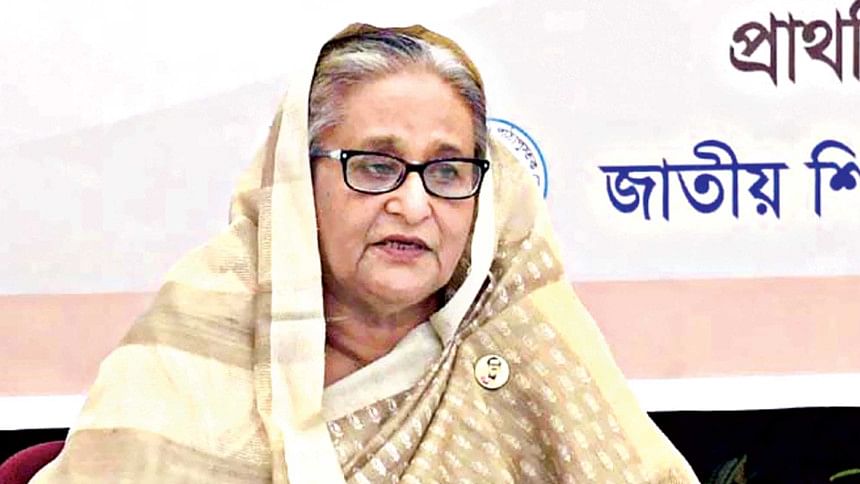 Renewing her call for strict implementation of the Paris Agreement, Prime Minister Sheikh Hasina has asked global leaders to take stronger steps urgently to address the planetary emergency of climate change.
She also placed six-point proposal before the global leaders as the COP-26 is just a few months away, reports UNB.
The PM was addressing a closed-door leaders' meeting on Climate Change, arranged for a small group of heads of state and governments, at the UN Headquarters yesterday.
The proposal includes strict implementation of the Paris Agreement to keep the global temperature rise below 1.5 degrees Celsius, realisation of annual $100 billion climate fund from the developed countries, 50 percent of this fund should go to adaptation and resilience, especially to climate vulnerable countries.
The other proposals are: Forging new financial mechanisms and transfer of green technology to developing countries, addressing loss-and-damage issue, and displacement of large-scale population due to climate change and capacity building of CVF countries to tackle the double jeopardy of pandemic and disaster, particularly with the increased frequency of climate-induced disasters.
"Finally, we need a 'whole-of-the-world' approach to leave a sustainable future for our next generations," she said.
British Prime Minister Boris Johnson and UN Secretary-General António Guterres convened the meeting.
Hasina said climate vulnerable countries contribute the least to the global green house gas emissions. "Yet, they are the worst victims of the impacts of climate change."
She mentioned that the recent IPCC report has provided a grim picture about their future. "If the global temperature goes above 1.5 degrees Celsius, they'll face permanent damages.
"The international community has a special responsibility to support these countries in their adaptation and mitigation efforts," the premier said.
Hasina said despite being a climate vulnerable country with resource constraints, Bangladesh has emerged as a global pioneer on adaptation and resilience.
She said Bangladesh has adopted the "Mujib Climate Prosperity Plan" focusing on green growth, resilient infrastructure and renewable energy.
"We're on our journey from climate vulnerability to climate resilience to climate prosperity [VRP]," the PM added.
Earlier, Hasina reached the USA to attend the 76th United Nations General Assembly (UNGA).
Bangladesh Ambassador to USA M Shahidul Islam and Bangladesh Permanent Representative to United Nations (UN) Ambassador Rabab Fatima received the premier at the airport around 5:40pm Sunday local time, Prime Minister's Press Secretary Ihsanul Karim told BSS.
Foreign Minister Abdul Momen and State Minister for Foreign Affairs Shahriar Alam, among others, are accompanying the prime minister.
Hasina will stay in New York until September 24 as part of an official visit to attend the UNGA and a number of high-level events there, reports BSS.
This is her first foreign tour after her Italy visit in February 2020.