PM to decide when election- time govt will be formed
Says law minister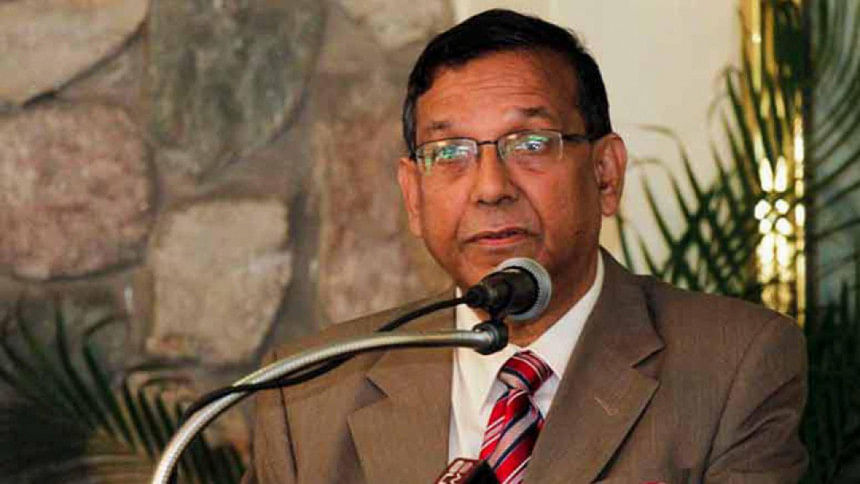 Law Minister Anisul Huq yesterday said Prime Minister Sheikh Hasina would decide when the election-time government would be formed.
The PM does not need to resign for the polls-time government to operate and may constitute a small cabinet if it's felt necessary at that time, he said.
"Our state is run under the constitution based on the Westminster-style parliamentary system of government. As such, when she decides, the prime minister will form an election-time government. There is no ambiguity in this matter.
"The prime minister has already given an outline to this effect and said who might be involved in the polls-time government," he added.
The law minister made the remarks while talking to reporters after attending as the chief guest a meeting organised by the Judicial Administration Training Institute (JATI) on the occasion of inaugurating a training course for judges involved in trials of corruption cases.
Replying to a question, he said the government will bring necessary amendments to the Digital Security Act in September in order to avoid its misuse.
In reply to another query about the amendment of the Representation of the People Order, Anisul said cancelling the whole election of a constituency for irregularities in one or few polling centres was unconstitutional.
Earlier in the day, the law minister told the function that the nature and purview of corruption are extending in line with the change of time and development of technology.
The government has announced a zero-tolerance principle against corruption and has been implementing the policy, he said.
Bangladesh has become a role model of development in the world by removing the bad reputation of "champion in corruption" because of Hasina's farsighted and courageous steps.
JATI's Director General Justice Nazmun Ara Sultana presided over the occasion where Anti Corruption Commission's Chairman Md Moinuddin Abdullah and Law and Justice Division Secretary Md Golam Sarwar, among others, spoke.