PM calls for Turkish co-op for Rohingya repatriation
Urges Ankara to make more investments in Bangladesh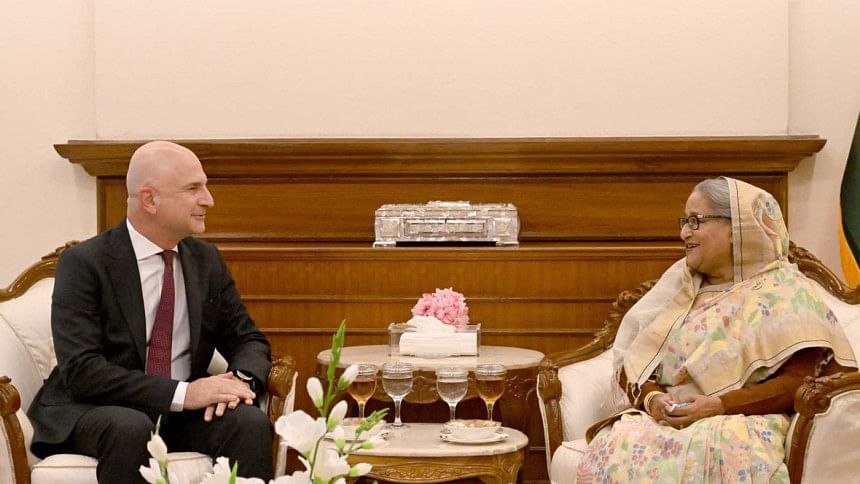 Prime Minister Sheikh Hasina yesterday sought robust investment from Turkey alongside cooperation in the repatriation of Rohingyas as Ankara's Ambassador in Dhaka, Mustafa Osman Turan paid a farewell call on her.
She also sought Turkish assistance in overcoming future challenges that Bangladesh may face during the transition from a least developed country to a developing one.
PM's speech writer M Nazrul Islam briefed reporters in this regard after the meeting held at the Prime Minister's Office in the morning.
When the premier urged the Turkish government to put pressure on Myanmar to take back its nationals, the outgoing envoy assured her of cooperation.
She expected the next Bangladesh-Turkey Joint Economic Group meeting to be held soon to discuss the enhancement of business and trade between the two countries.
The last meeting of the group was held in Istanbul in 2019.
The PM reviewed the existing and historic ties between the two countries as she sought to strengthen them further, particularly in the economic arena.
Turan said that Turkish businesspeople were interested in making more investments in Bangladesh because of the opportunities it offered, especially the economic zones.
Two Turkish companies have so far invested $850 million in economic zones in Bangladesh this year, he added.
Turan said his country was now eager to extend cooperation to Bangladesh's defence sector.
The envoy said his country was also interested to set up a super-specialised hospital in Bangladesh and sought a suitable place for the facility.
He hoped that Sheikh Hasina would be voted to power in the next general election.
Among others, Ambassador at Large M Ziauddin and PM's Principal Secretary M Tofazzel Hossain Miah were present at the meeting.