Furryghor: A hotel for your pets
It came together after just one meeting in December.
In the one and a half months since that fruitful conversation between Rakibul Haq Emil, Nuzhat Nabila and Khalid Farhan, the three put together a plan and followed it through. By the time February arrived, Furryghor was almost good to go.
They finally launched the day-care/boarding house for pets on February 22. With three rooms for dogs and 14 glass-walled cat cabins, the 1,800 square feet space in Mirpur's Zoo Road is already attracting interest from pet parents all over the city.
"We got featured on a private channel's news broadcast a couple of days ago. And just like that, the demand spiked, even before we've completed furnishing the space," said Nuzhat Nabila.
She said their dog-rooms, which already have a designated potty-place and hand-showers installed, are going to have their own TVs and sound systems. There are CCTVs installed everywhere that Nabila and the other partners check up on through their smartphones.
In addition, a cafe -- for humans -- is being set up in the lobby, which is also set to feature a shelf dedicated to craft entrepreneurs, right beside the sitting space. The big wall on the lobby was painted by Nabila and artist Suhas Nahian. Over a backdrop of light yellow, a bunch of cats and dogs can be seen uttering your favourite pet meme buzzwords: purr, henlo, and of course, bork.
Nabila said she's a pet-mother herself, an architect, and a lecturer at Southeast University. She has been in touch with Paw Foundation's Emil for some time, even working together a couple of times. During her masters in Sydney, she worked with some pet centres and got to learn of the international standards of taking care of pets this way, which no doubt came in handy while setting up Furryghor. Emil is an architect too, and it was these two who designed and executed the whole space.
When this correspondent visited, PAW Foundation founder Emil was there with Thumri, his nine-year-old dog. Besides her, the animal rights activist has two more dogs.
"I haven't been out on a trip for five years," Emil said while explaining how Furryghor came together. "This is a big headache for pet-parents everywhere."
Nabila echoed this. "I can always leave my pets with a house help or a friend, but I'll never risk keeping them with anyone who's not trained to take care of pets."
They said Furryghor's idea came together from these concerns.
"When I contacted our other partner Khalid Farhan, a digital marketer and YouTuber currently living in Ireland, for donations for PAW Foundation," Emil recounted, "He told me he's not going to give us any donations, but that he's willing to invest in a for-profit venture, a portion of whose profits can go to the foundation."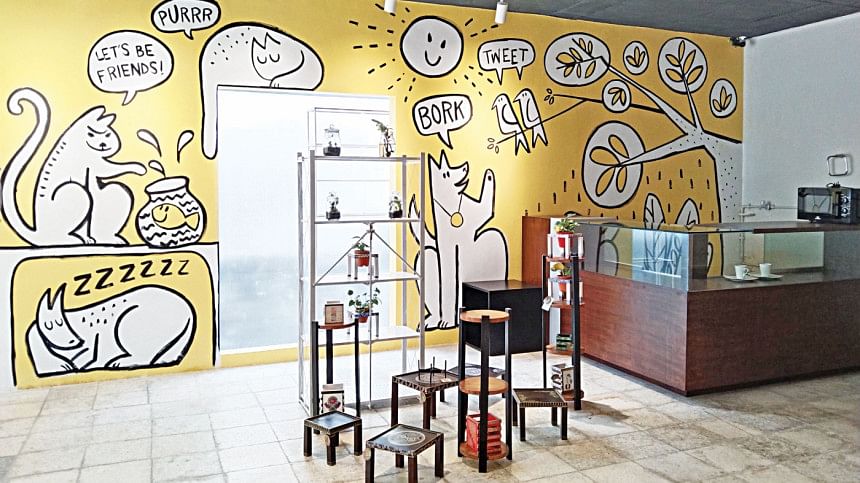 "Seventy percent of the foundation's funds come from PAW Life Care [a medical facility for pets], but it's registered as a non-profit. Furryghor is our first for-profit venture."
"Some of our well-wishers give us money due to personal liaison with me or my team members. But we'll not always be there. But a for-profit venture can keep the foundation going in our absence," he said.
"We also want to introduce some philosophies with Furryghor. That our pets deserve the highest standards of care and that we should treat them like we would treat our children," Emil said.
To get a booking at Furryghor, one needs to show vaccine cards of their pets. For day's stay, cat-cabins can be booked for Tk 500, while a dog's stay is priced at Tk 1,500 for the same duration. The facility currently has two caregivers and a dedicated manager.