People suffer for delay in bridge work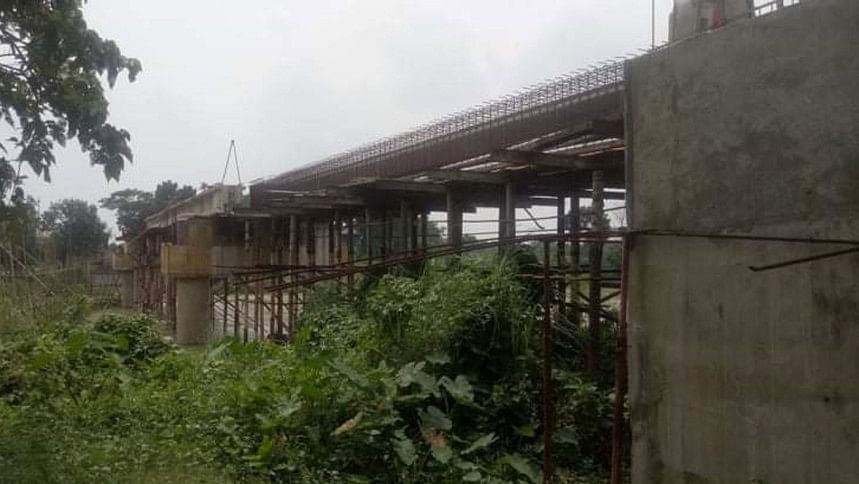 Thousands of residents in Dhaka's Dhamrai upazila have been facing immense problems due to delay in construction work of a bridge on Bangshi river.
According to the upazila LGED office, under Dhaka Rural Infrastructure Development Project, construction of a 75-metre-long bridge over Bangshi in Depashai-Nayapara area was planned, with a cost of Tk 4,53,70,064.
On March 11, 2019, construction firm Nuna Traders-Fastbuild JV got the tender and started  working.
It was supposed to be completed by March 10, 2020, as per the contract. But after constructing the bridge's pillars and 40 metres of the structure, the firm stopped work citing design complications and Covid-19.
According to locals, when the work started, the structure was too close to the river, which would have hindered vessel movement. Later, when they wrote a letter to the upazila engineer in this regard, the design was changed. The construction firm then started the work by raising the bridge by a metre.
But work stopped again after a while.
Due to this issue, around 25,000 people living in surrounding areas -- including Depashai, West Depashai, East Depashai, Nayapara, Karabil, Goaldi, Kashipur, Chapil, Sombhag, Naogaon, Shailan and Bhalum -- are suffering, they added.
"When work started, we were relieved, as the bridge was supposed to ease our problems. But the work remains suspended for a long time, and who knows when it will start again." said Korban Ali, a resident of Depashai area.
Azahar Ali, chairperson of Sombhag union in Dhamrai, said due to the delay, thousands of people have to travel an extra 10 kilometres to reach Dhaka.
Contacted, Sanjay Debnath, project director of Nuna Traders-Fastbuild JV, said construction work was halted due to design complications and coronavirus.
About the design complications, he said as locals earlier complained to the upazila engineer about its low height, they had to fix that, which is why the work got stalled.
Besides, due to the ongoing pandemic, they were unable to restart the work.
However, Azizul Haque, upazila engineer of Dhamrai, told The Daily Star that the construction work was halted due to the firm's negligence.
Although the contractor was issued several letters to complete the work, they stopped it, mentioning various reasons. "Necessary steps will be taken in this regard very soon," he assured.
Asked, the project director of the firm refuted the allegations. "We will start the work soon," he added.