EVOLUTION OF CYBERCRIME (PART 1)
Patterns have evolved, so have criminals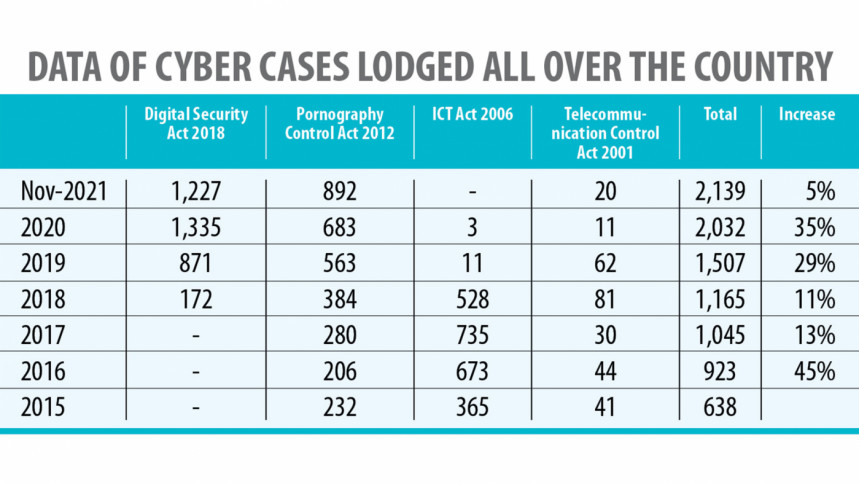 They met on a social media site for something that soon turned out to be an intimate relationship of sorts.
They would often share private photos, in continuation of which, the woman offered to have a private video chat with him.
Little did he know that he was soon to fall into a trap. She tricked him into a recorded video chat, which she threatened to release on the internet if the man failed to pay her the amount she asked for.
Family members of the 40-year-old expatriate living in Qatar sought unofficial help from the cybercrime unit of Counter Terrorism and Transnational Crime (CTTC) in February. No case was filed in this regard.
Cybercrime investigators have termed this "sextortion", and claimed that this is not an isolated incident. Crimes such as this have become a common pattern in the country.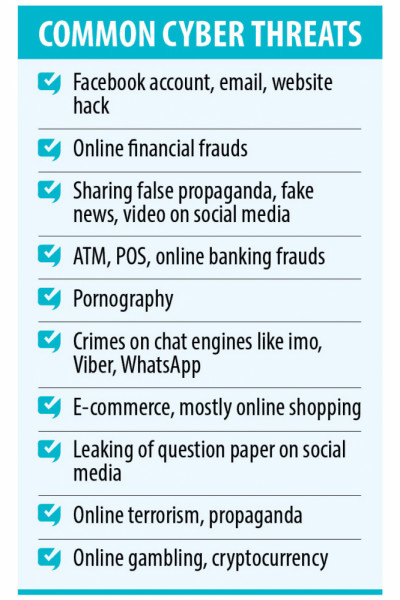 According to the CTTC database, around 15 percent of cybercrime victims have faced sextortion in 2021. Of whom, 23 were male and 117 female.
This, however, is just a glimpse into the wide range of cybercrime that the country finds itself faced with. With advanced technology, easy access and new platforms every day, cyber crimes have seen an alarming rise and evolution, with newer patterns of crimes.
Crimes have evolved, and so have the criminals.
A recent presentation conducted by CTTC shows that an average of 169 cyber cases were filed every month in 2020 under four different acts, while the figure rose to 194 in 2021.
Mishuk Chakma, deputy commissioner of CTTC, said the pattern of cybercrime has been changing. So have the numbers, with a sharp increase. "This has been possible due to easy access to the internet and lack of monitoring," he observed.
Even foreign nationals were also found involved in such criminal activities.
For instance, on April 21, Detective Branch of police arrested 11 Nigerian nationals for fraudulence and embezzlement.
Along with their Bangladeshi counterparts, these foreign nationals would target individuals on Facebook and promise them presents after befriending them.
After a few days, a local syndicate member calls the target, pretending to be a customs official, and says a certain amount of duty has to be paid to collect the package. Upon receiving the amount, they would cut off all sorts of communication with the target.
In many cases, the criminals were found pretending to be a woman working in the US military, claiming to be stationed in Syria.
"I have to deposit a huge sum of money to Bangladesh," they would claim, followed by the routine of fraudulent customs activities.
The crimes don't just stop at blackmailing, extortion and embezzlement. They now branch from question leak to sexual harassment and trafficking to initiating riots and clashes as well.
Recently, a syndicate used WhatsApp to leak the questions papers and solutions of a recruitment exam taken by Directorate of Secondary and Higher Education (DSHE), which was held at 61 centres in Dhaka on May 13.
"Fake news spread rapidly in our country for our proactiveness on social media, making way for crimes that are horrendous in nature," said CTTC official Mishuk Chakma.
On March 12, three people were killed and several others were injured in a clash in Shommania union under Gazipur's Kapasia, centring on a comment made on Facebook.
Around 28 arrests were made between May 2021 to March 2022 for crimes conducted using TikTok, a popular social media platform.
The patterns noticed in crimes using TikTok suggest that the targets are mostly girls who were lured in with promises of TikTok stardom.
Once the victims agreed to their proposal, meetings are arranged. The rest is a story of horrifying torture and trauma.
Victims in such cases have been found to be sexually harassed, raped and trafficked to India.
Organised trafficking syndicates have trafficked at least 50 girls to the neighbouring country and the Middle East, luring them via social media platforms, said law enforcers.
Officials working at the Cyber Police Centre (CPC) of Criminal Investigation Department  said just a couple of years ago, they used to receive around 1,500 cyber crime complaints every month on an average.
The number has now risen to 2,500.
Admitting the gravity of the situation, SM Ashraful Alam, special superintendent of CPC (Investigation and Operation) of CID, said cyber crimes are increasing in recent times.
"Majority of these crimes are related to social media, e-commerce and f-commerce. We are still thankful that crimes depending on advanced technology are still not taking place in the country on a large scale," he said.
Md Tawohidul Haque, assistant professor of the Institute of Social Welfare and Research at Dhaka University, said a large number of people, who are victims of cybercrime, do not report to law enforcers due to the social stigma associated with such crimes.
He blamed the lack of awareness among users for the rising trend in cyber crimes.
"The complaints are made only when there is no other option left for the victims. By analysing different media reports and data, it can be said the numbers are indeed rising," he said.