Blackout: Patients suffer the most
Sweltering heat, water crisis make things worse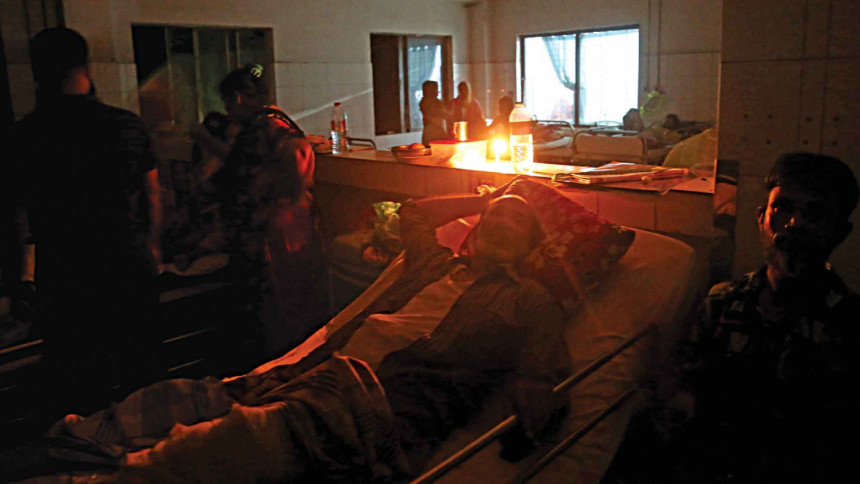 Chattogram Medical College Hospital struggled to nebulise children with pneumonia and shortness of breath yesterday, while nurses of Bangladesh Shishu Hospital and Institute used mobile phone flashlights to administer injections.
Caused by a failure in the national grid, the power outage that lasted between four and eight hours from around 2:00pm disrupted life in the capital and many other parts of the country.
The blackouts in Dhaka, Chattogram, Sylhet and Mymensingh divisions also caused acute water crises in many homes.
But it was hospital patients who suffered the most discomfort, as well as danger, due to the blackout.
At CMCH, the authorities ran their services on a limited scale, reports our staff correspondent.
Around 4:30pm, vulnerable patients in the children's ward could not be nebulised. There were hundreds of patients in the ward.
Ward doctor Farhana Noorin told The Daily Star that the nebuliser was closed due to lack of electricity. The AC was not running, and neither were ceiling fans.
Electricity supply in the area resumed only around 7:40pm.
There was no electricity supply at wards of the National Institute of Traumatology and Orthopaedic Rehabilitation in Dhaka, Prof Abdul Gani Mollah, director of NITOR, told The Daily Star.
However, services at OT, ICU, CCU, and HDU went on normally due to generator backup, he said, adding that the emergency department also ran as usual.
Our correspondent found nurses administering injections to patientsusing mobile flashlights at the wards of Bangladesh Shishu Hospital and Institute.
There was no power supply at wards and the general surgery remained shut at the Shaheed Suhrawardy Medical College and Hospital, confirmed Khalilur Rahman, the director of the hospital.
The hospital authorities kept the emergency department and operation theatre open with the help of a generator.
Elsewhere, normal life was disrupted as city dwellers used mobile flashlights to walk on roads while roadside shops and kitchen markets were illuminated by candles.
Many people were found frantically looking for alternative ways to illuminate their homes.
After the national grid line failure, people rushed to nearby refilling stations to purchase fuel to power their generators.
Our correspondents found long queues in at least two petrol pumps with people clamouring for either diesel or petrol to keep their generators operational.
Ashik, a caretaker of an apartment building in Dhanmondi, rushed to Sadek Khan Petrol Pump. "After waiting four hours I could buy only 55 litres of diesel," he said, adding that he needed 55 more litres.
Power outages also disrupted telecommunication and internet services in the country. Mobile phone users around the country claimed to face difficulties in making calls and using the internet.
Due to the sweltering heat, staying at home was not easy for people.
Speaking to The Daily Star, Mominul Haque, an employee of a private bank, said he did not buy candles in the hope that his IPS would provide backup power.
"But it [IPS] did not last long … Now we're sitting in complete darkness amid this hot weather," he said.
ATMs of different banks in many areas were found shut as their backup power died.
Abdur Rahim, employee of a private organisation, tried to withdraw cash from ATM booths in Savar. "Security guards told me they shut booths as backup power ran out," he said.