Patients find strength in shared devotion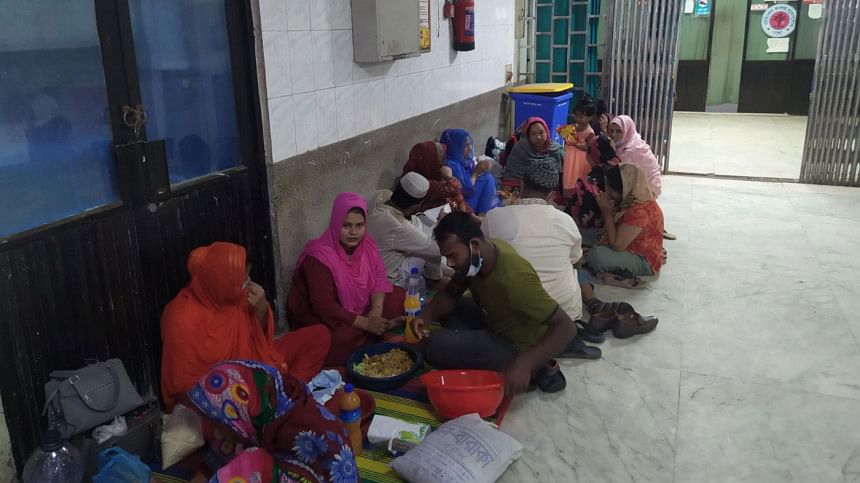 It was a Friday evening, and the atmosphere at Dhaka Medical College Hospital (DMCH) was one of serenity and devotion. The patients and their attendants were breaking their fasts together.
Among them was seventy-year-old Harun-Or-Rashid, hailing from Kaptai in Rangamati. He had been admitted to DMCH for urology problems and was waiting alone with a bowl of food, counting down the minutes until iftar.
Harun spoke with a sense of calm and determination. "Doctors said they will conduct an operation in the coming week, so I am observing fast till then," he explained. Despite the hardship he was going through, he was determined to continue fasting until his operation.
His family could not stay with him due to financial constraints, so he broke his fast alone. However, he was not truly alone as other patients and their attendants were also fasting and breaking their fasts together.
DMCH provided basic breakfast items such as eggs, bread, and bananas, which patients and attendants stored for iftar. Rice was provided for their sehri and dinner.
The hospital was buzzing with activity during iftar time. Patients and their attendants were seen sitting together in groups, breaking their fasts with food provided by DMCH, passing plates.
One attendant, Joynal Kazi, spoke about how he and his family observed fast and bought food from outside to share with others. He had admitted his sister with gastric issues.
DMCH sources estimated that the total number of attendants and patients during Ramadan would exceed 10,000. To cater to this demand, makeshift shops selling Sehri and Iftar items were set up, along with restaurants and hotels.
Street vendors like Abdul Jalil were taking advantage of this surge in demand.
He said, "We used to sell regular foods at other times. But as it's Ramadan time, there is an increase in customers, so we started selling these items."
DMCH Director Brig Gen Nazmul Haque said that there were over 3,500 patients admitted to the hospital at present. As most patients could not fast due to their physical conditions, the hospital doesn't provide extra food for Sehri or Iftar.