Park, coffee cart or biryani shop?
Bangshal Park becomes eatery, with almost no space to walk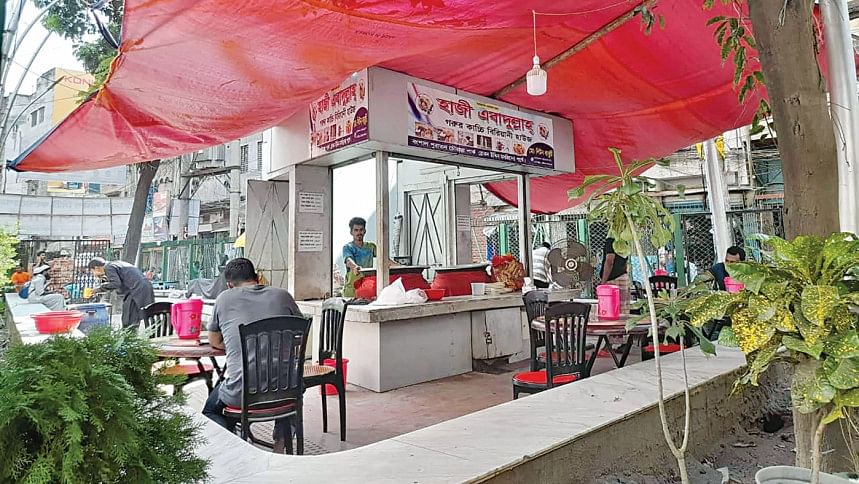 In Old Dhaka's Bangshal stands a park in the shape of a triangle. It used to provide citizens with an avenue to go on morning and evening walks, or spend their leisure surrounded by greenery.
This park, which dates back to the pre-independence era, had a library, 10 to 12 benches to sit on, and a small field, where children used to play.
But due to sheer apathy of the authorities concerned, this park soon lost its glamour.
The size of the park gradually shrank, as land grabbing went on unabated, while the remaining parts were too dilapidated to visit.
To salvage whatever was left of the park, the first elected mayor of Dhaka, Mohammad Hanif renovated it, and installed a water fountain and two dove sculptures, as a symbol of peace.
To carry on his father's legacy, former Dhaka south mayor Sayeed Khokon renovated the park and inaugurated it for the public in 2020.
New walkways,  fresh grass, extended seating arrangements and lights were installed at the place under this project, and the water fountain was made functional.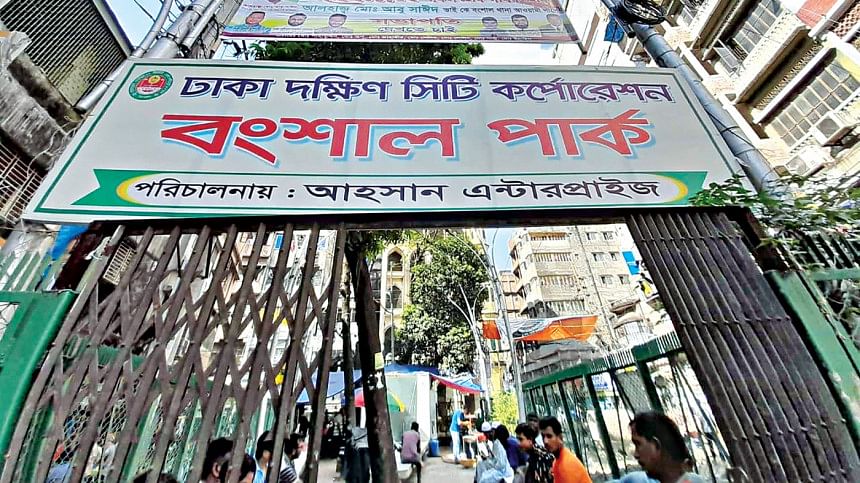 Soon after, the park was leased out to Bangshal Thana Bangabandhu Parishad president Haji Ahsan Ullah. Under the lease agreement,  Ahsan and company were supposed to run a coffee shop, on condition of selling coffee in a wheeled cart alongside taking care of the park.
Building any permanent structure to sell anything other than coffee wasn't permitted under this arrangement.
But in a recent visit to the Bangshal Park, this correspondent saw that a permanent steel structure has been built there, occupying at least one-third of the place. There are lines of chairs and tables centring it, but rather than coffee, what's being served is biryani.
Even the water fountain has been shut down to facilitate the biryani shop. There are a few washing basins, a deep freezer, and rows of plastic chairs and tables inside Haji Ebadullah Biryani House, owned by one Liton Baburchi.
Biryani is also served at benches on all three sides of the park.
Contacted, Liton Baburchi said he has rented the place from Ahsan Ullah.
Locals said they cannot walk or sit in peace at the park anymore, as the place is always abuzz with the biryani shop's customers. Besides, the size of the already small park has reduced significantly because of the makeshift-restaurant, they added.
Abdul Hai, a resident of Mokimbazar, Bangshal, said this park used to be bigger.
"There was a library here. People came here to read books, walk and play. But the park gradually died."
"When the park was renovated in 2020, or whatever was left of it, the locals thought they would finally get a place to pass peaceful leisure. But the biryani shop has threatened the park's serenity," he added.
The park's lessee, Haji Ahsan Ullah, said they run the shop "legally".
He said, "We run a biryani shop next to the coffee shop. The DSCC officers come for regular inspections. There are no issues."
Local (Ward-35) Councillor Abu Saeed said, "The park was made for walking, but now it's a business place. People cannot sit and walk. I've made a verbal complaint about this to the city corporation. I'll send a written complaint soon."
DSCC Chief Property Officer Russell Sabrin said there's no scope to run a biryani place after taking permission for a coffee cart.
"We will cancel our agreement if the conditions of the lease are being violated," he added.