A parched Teesta sees many routes closed
Many boatmen in livelihood crisis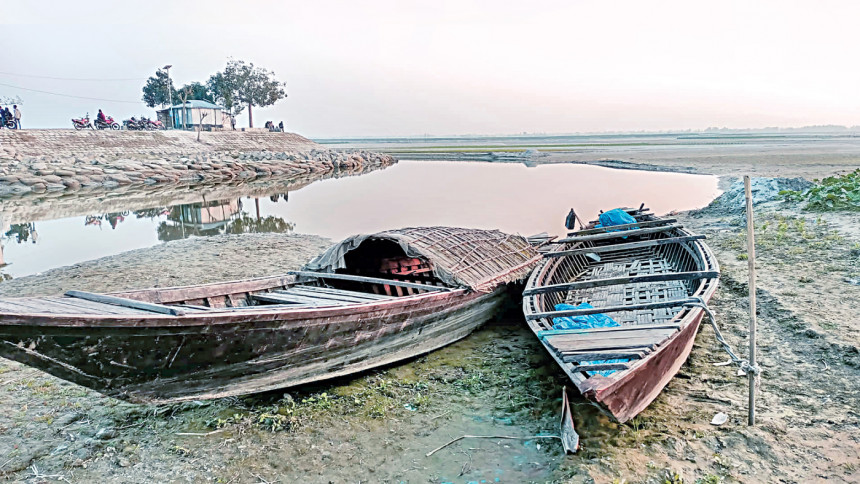 At least 25 out of 35 river routes in the Teesta river basin area under eight upazilas of Lalmonirhat and Kurigram have been closed due to a sharp decline in the water level during the ongoing dry season.
The situation is not likely to change before the onset of the rainy season when the river will be replenished by waters from the upstream.
Locals said once the mighty river remained navigable round the year but the situation has changed due to the withdrawal of a huge amount of water from the upstream in India over the last several years.
This year the situation is even worse. People are often seen wading through the knee-deep river as large chars (landmass emerged from riverbed) have sprung up.
Boatmen said, with a large number of cargo and passenger boats lying idle, over two thousand boatmen and workers have become jobless and locals are undergoing immense sufferings as they have to either walk miles or take a costly ride on horse carts to reach their destinations.
At present river communications between Lalmonirhat and Kurigram with distant docks of Rangpur, Gaibandha and Jamalpur districts are suspended, as the river routes have already dried up, they said.
Boatman Sahed Ali at Bagdora ghat in Lalmonirhat Sadar upazila, said he has been jobless since the first week of January as there is no sufficient water flow for plying boat in the river.
"Locals are now wading across the river" he said.
"At least 20 boatmen were engaged in plying boats in this ghat, now all of them have become jobless," he said, adding that boatmen are earning their livelihood by doing other jobs.
Azizar Rahman, a boatman at Thetrai ghat in Kurigram's Ulipur upazila said there is no sufficient water in the Teesta river now, therefore, boats cannot carry passengers and goods. At least 30 boatmen in this ghat have become jobless, earning their livelihood working as day labourers. '
"We will return to our job when Teesta swells up again in the last week of June to the first week of July," he said.
"We are passing our days amid hardship as boats cannot ply the Teesta and adjoining canals due to acute water crisis," said Mobarak Ali, a boatman of Gatiashyam village in Kurigram's Rajarhat upazila.
Mizanur Rahman, executive engineer of Water Development Board in Lalmonirhat, said Teesta gets a normal flow of water for only three months--July-October. A parched Teesta is having a bad impact on the livelihood of the boatmen.