Padma Bridge: Loan repayment starts with Tk 316.91cr returned to govt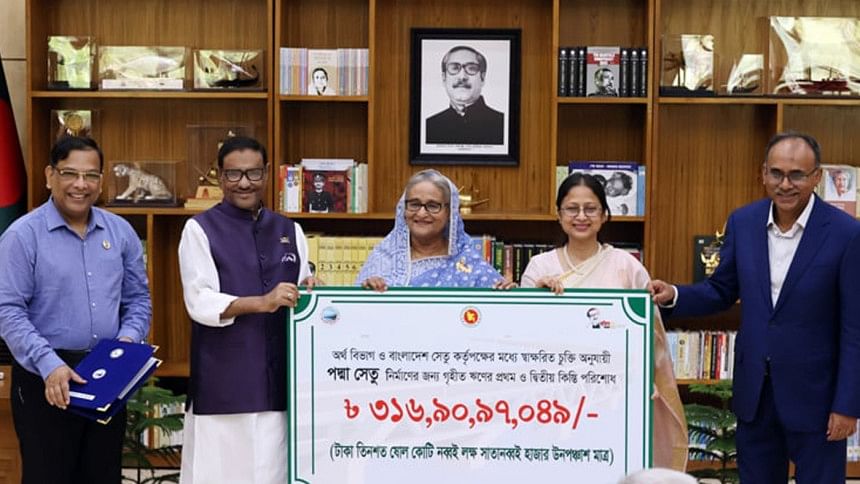 The repayment of the loan taken for construction of Padma Bridge started today with a Tk 316.91-crore payment.
Prime Minister Sheikh Hasina received a cheque of Tk 316,90,97,049 as the first and second instalments of loan repayment.
Road Transport and Bridge Minister Obaidul Quader handed over the cheque to the premier at the Gono Bhaban.
The loan was taken from Bangladesh Bank at a low interest rate under an agreement signed between the Finance Division and the Bangladesh Bridge Authority.
On June 25, 2022, the prime minister opened the country's largest bridge over the mighty Padma River.
The 6.15-km bridge directly connected the country's 21 south and south-western districts with the capital, and it is expected to accelerate the GDP growth by 1.23 per cent and make an outstanding contribution to socio-economic development by alleviating poverty.
The total allocation was Tk 30,193.39 crore, but the allocation for the main bridge was Tk 12,133.39 crore (including Tk 1,000 crore for installation of 400-kv electricity transmission line and gas line).
Besides, the Tk 9,400 crore was allocated for river training works, Tk 1,907.68 crore for approach roads (including two toll plazas, construction of two buildings for police stations and three service areas), Tk 1,515 crore for the rehabilitation of the displaced people (caused by the project) and Tk 2698.73 crore for land acquisition.
The construction cost of Padma Bridge is expected to be recovered in the next 35 years.