Outcomes of PM's india visit: Between hope and despair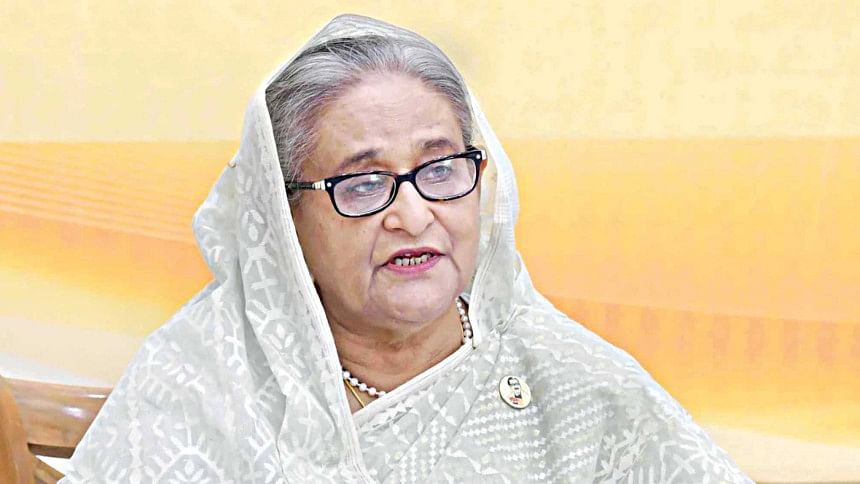 Prime Minister Sheikh Hasina's four-day visit to India brought some positive outcomes like the offer of free transit through India to third countries and the Kushiyara water-sharing MoU.
However, little progress towards the signing of a long-sought Teesta deal was somewhat of a dampener.
Experts said India's offer to Bangladesh for free transit via its territory for exporting products to third countries through specific land ports, airports, and seaports was a positive move.
Speaking to The Daily Star, former foreign secretary Touhid Hossain said, "The MoU on Kushiyara water sharing is a good development, considering that nothing happened for a long time in the realm of water sharing.
"This is a welcome gesture but the sad part is there is no progress on Teesta. Prime Minister Sheikh Hasina talked about Teesta water sharing but there was no concrete response from the Indian side."
He also said that although both sides agreed to work towards bringing the border killings down to zero, Bangladesh has actually not much to do in this regard.
International relations analyst Shahab Enam Khan said this visit has highlighted the mutual economic interests of the two nations.
Both the prime ministers have acknowledged that the two countries need to go beyond myopic views concerning security and defence, he said.
"The joint statement could have reflected Bangladesh's key national security concern, which is linked to Rohingya refugees, as well as the long-pending issues like Teesta water sharing. What is very interesting is how geopolitics has compelled both the countries to assert the necessity for bringing connectivity into action," said Professor Khan, who teaches international relations at Jahangirnagar University.
He said that while energy security had been an important component of the PM's visit, the solution lies in bureaucratic capacity to resolve the energy crisis, which requires more than sub-regional cooperation.
Former Bangladesh ambassador to the US Humayun Kabir said Bangladesh had many expectations from the visit, but Indian assurances or support did not live up to those.
"But the good thing is both the prime ministers radiated some positive vibe. To me, this visit is a sort of review of the two countries' relationship over the last 12 years. I think that the two sides have discussed crisis management and also the potential crisis. I found that the focus of the visit was on connectivity," he told The Daily Star.
He said the water sharing issues were not going anywhere for long but at least some movement was noticed in this regard through the signing of the MoU on Kushiyara. "The Teesta issue still remains in limbo."
Hasina returned home last night after wrapping up her India tour. During her visit, Dhaka and Delhi signed seven MoUs, including one on withdrawal of water from the Kushiyara by Bangladesh. The other deals are on cooperation in the areas of space technology, science and technology, railways, judiciary and broadcasting.
A Bangladesh-India joint statement issued on Wednesday said Delhi offered free transit to Dhaka for exporting its products to third countries.
The two premiers held discussions on bilateral cooperation, including political and security cooperation, defence, border management, trade and connectivity, water resources, power and energy, development cooperation, cultural and people-to-people links.
Hasina went to Delhi amid global and regional crises fuelled by the Russia-Ukraine war and the Covid-19 pandemic. And before the visit, the premier in an interview said that Bangladesh expects its closest neighbour to play a generous role in solving issues like Teesta water sharing and Rohingya refugee repatriation in the context that the two countries managed to end longstanding disputes over land and maritime boundaries.