Our Munias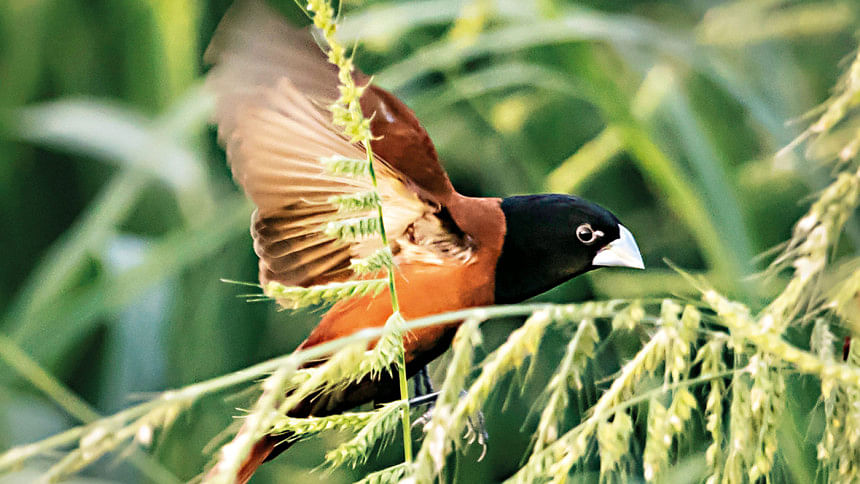 I was disappointed when I saw my first munia some years ago.
That's because I had believed a story I had read as a child. Our Creator had created all the birds and was colouring them by splashing paint on them. Except the munias; they were away playing. When they finally showed up only drops of different colours remained. So He splashed these drops on the munias, making them beautifully multi-coloured.
But the Chestnut Munia I saw was brown with a black head. Some others around it were reddish brown with a scaly pattern on the breast.  Some had a white patch on the breast. None was spectacularly colourful like the munias in the story.
It did not take long for my disappointment to turn to joy, however. The playful nature of the birds was on full display. On the grassy field, they flitted from stalk to grass stalk, cleaning out the tiny seeds with their thick bills, sharing them, kissing each other on the beak, and playing an avian merry-go-round competing for desirable perches. It was impossible not to love them.
We have six species of munias in Bangladesh: Chestnut, Tricoloured, Scaly-breasted, Indian Silverbill, White-rumped and Red Munia.
Of these the first four are easiest to see. They can be found in open grasslands all year round, playing and feeding on grass seeds, sometimes in large flocks flying like shimmering ripples through the fields. The White-rumped Munia, harder to find, is seen in forests of Sylhet and Chittagong; I have also seen it in shorn paddyfields in those areas.
The Red Munia (also known as the Red Avadavat or the Strawberry Finch) is the hardest to spot. It is rare here and seen in grasslands in autumn. An extraordinarily pretty red bird with spots of white, it is the bird that my childhood story must have referred to. When it is spotted in one or two places around Dhaka, word gets around quickly and flocks of bird photographers show up.
In spring, munias in the fields build nests among thickets of tall grass. Sometimes they re-use old nests of Baya Weavers. Come monsoon, the chicks have started to fly and need constant feeding. They clamour with open beaks wherever their mother goes. The mother cleans out seeds from grass stalks with her beak and patiently feeds her babies taking turns.
There are around 31 species of munias spread over the Old World, all belonging to the Estrildidae family of birds – a family that includes some of the prettiest small birds including the Gouldian Finch. The Chestnut Munia readily seen in our grasslands was the national bird of the Philippines until 1995 when President Ramos decided that as a national symbol it was too small and docile. He changed the national bird to Philippines Eagle.
If you are unable to get outside the city to open fields, various munias can be found in the city parks. I have occasionally seen Indian Silverbill Munias on the rooftop garden of our high-rise in Dhaka. The friendly demeanour and playful antics of these birds make them a delight for lovers of nature.
facebook.com/ikabirphotographs or follow "ihtishamkabir" on Instagram.