Only 19pc house helps have MFS accounts: survey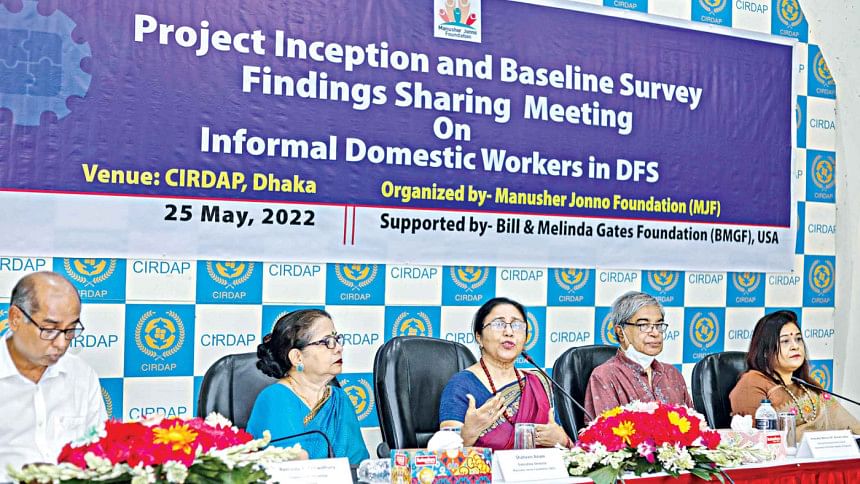 Only 19 percent of the female house helps in Dhaka's Mohammadpur, Mirpur, Gorahan, Keraniganj, and Kamrangirchar surveyed have Mobile Financial Service (MFS) accounts, revealed a study.
Around 36 percent of them, however, said they do not use the transaction service, according to the baseline survey report shared at an event in the capital's CIRDAP, organised by Manusher Jonno Foundation (MJF).
Institute of Social Business (ISB) surveyed 250 female house helps and female employers each for the study as part of the MJF's project titled "SHUCHONA -- Introducing Digital Financial Systems (DFS): Empowering Domestic Workers".
Supported by the Bill and Melinda Gates Foundation, the project will be completed by April 2023.
According to the study, each female house help earns around Tk 3,940 from their work and Tk 1,195 from other sources monthly. They spent almost the entire amount on their families.
The main barriers to launching an MFS-based payment system were the digital illiteracy among the female house helps and the service charge.
At least 48 percent of the house helps said they will never be able to use mobile financial services.
"If we can train both house helps and their female employers, the payment could be digitised. This will enable them to exercise more control over their earnings and encourage savings," MJF Executive Director Shaheen Anam said while presiding over the event.
Speaking as chief guest, Telecom and ICT Minister Mustafa Jabbar said the future of the world is a cashless society.
In case of service charge complexities, the minister said, "We will consider arranging free of charge cashout service on behalf of Nagad [the MFS of Bangladesh Post]."
Speaking at the event, Rasheda K Chowdhury, former advisor to the caretaker government, proposed a non-formal education on digital literacy.
Gokul Krishna Ghosh, acting director general at the Bangladesh Labour Welfare Foundation, and Nazma Yesmin, director (Research & Development) of Bangladesh Institute of Labour Studies spoke at the event, among others.