Online harassment of women increases
Finds study by ActionAid Bangladesh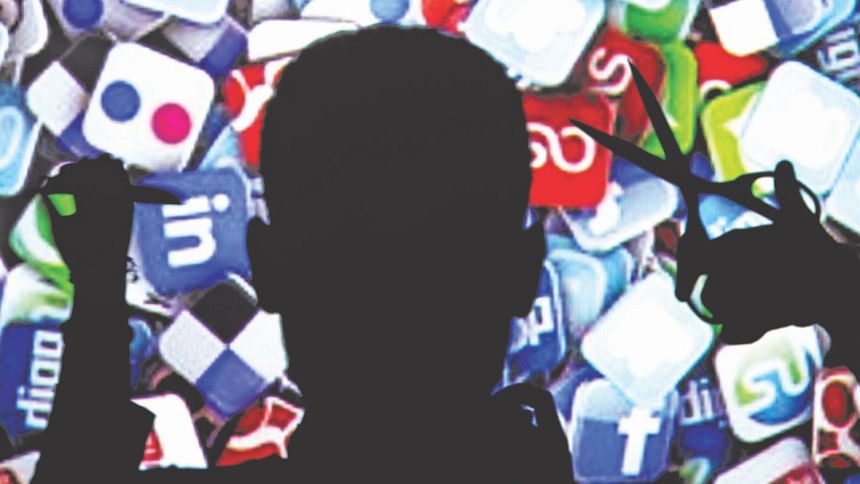 Online harassment against women increased, found a recent study commissioned by ActionAid Bangladesh.
As many as 64 out of every 100 women in Bangladesh faced harassment and violence online, up from 50 the previous year, according to the study titled "Online Violence Against Women 2022".
Women mostly faced violence on Facebook (47.60 percent), followed by Messenger (35.37 percent), Instagram (6.11 percent), IMO (3.06 percent), WhatsApp (1.75 percent) and on YouTube (1.31 percent).
The nature of harassment reported by the 349 respondents includes hateful and offensive sexual comments (80.35 percent), sending sexually explicit pictures to inboxes and asking for sexual favour (53.28 percent), discrimination against women (19.71 percent), creating fake IDs in their name (17.47 percent), cyberstalking (16.16 percent), personal attack for supporting LGBTQ rights (13.10 percent).
The harassment also includes recordings of sexual assault posted on social media and blackmail over leaking of private moments. Women also reported that their photos were edited and published on pornography sites.
Almost 12 percent of the women said the harassers posted their private photos on social media, while a few also mentioned that they received threats of sexual assault, were forced to have sex in exchange for work and cheated with tempting offers to participate in showbiz and much more.
In the past year, 67.11 percent of the survey respondents said they were subjected to online violence or harassment 1-5 times, 22.37 percent faced it 5-10 times and 10.53 percent faced it more than 10 times during the last year.
According to the study, 65.07 percent of the respondents reported that the harassment had a severe impact on their lives including psychological trauma, depression and anxiety.
This also includes the loss of confidence in being active or expressing opinions on social media (42.79 percent).
Such incidents also left them traumatised and impacted their self-confidence.
Only 14.91 percent of the women submitted formal complaints against online violence and more than 85 percent of the sufferers remained silent.
Among the complainants, 44.12 percent filed complaints through the social media reporting option, 20.59 percent through the Facebook page of Police Cyber Support for Women- PCSW, 11.76 percent through the National Emergency Service (999), 11.76 percent through the nearest police station, 5.88 percent through Cyber Crime Investigation Division, Counter Terrorism and Transnational Crime and Dhaka Metropolitan Police.
Most of the women thought the existing complaining mechanisms do not work. As a result, they did not show interest in submitting (28.87 percent) their complaint.
As much as 64.71 percent of respondents said they did not find any redressal or action against their submitted complaints, while 75.77 percent of the women reported they want to complain anonymously through online platforms as they are afraid of social stigma, victim blaming and losing privacy.
Of the survey respondents, 61.84 percent live in Dhaka division, 13.65 percent in Chittagong, 5.85 percent in Khulna, 5.01 percent in Rangpur and 5.01 percent in Rajshahi.
"11 young girls committed suicide in Bangladesh in the last two years due to online harassment. Adolescents are aware of the digital security act, but they don't know how to access support," said Sadat Rahman, winner of the International Children's Peace Prize and founder and president of Cyber Teens Foundation.
Law enforcement agencies and other relevant stakeholders need to make the support system more readily available and approachable, he added.
Women especially teenagers and girls below 18 years are mostly falling into the trap of online violence, said Farah Kabir, country director of ActionAid Bangladesh.
"If everyone works together, as this year's global theme signifies, violence against women can be reduced to a great extent," she said.
Technical assistance is required in addition to strengthening the legal process to resolve online violence, said DU associate law professor Taslima Yasmin.
Social media analyst and consultant Faizul Karim and anthropologist and researcher Dilshad Siddiquea presented the findings of the study at a discussion titled 'Stop Online Violence Against Women: Challenges and Way Forward" organised by ActionAid Bangladesh as a part of 16 Days of Activism to End Violence Against Women campaign.