Old Dhaka gears up for Shakrain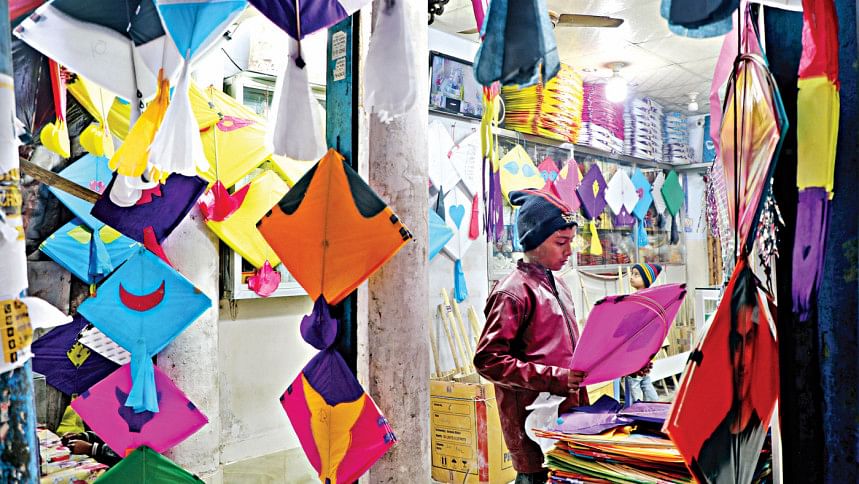 For Dhaka residents, when the winter breeze starts flowing through the city, it almost brings about a calling -- a calling to fly kites.
This is why every year, the month of January is one that is awaited, since it is the month that brings Shakrain -- a traditional kite festival usually held in the alleys of Old Dhaka.
With only five days left, the excitement for the festival is already brewing in Old Dhaka's streets. But nowadays, Shakrain is now not only limited to the Old Dhaka residents; it has become an iconic festival for all dwellers of Dhaka.
Every year, Shakrain is observed on January 14 and 15, to celebrate Makar Sangkranti, the last day of the Bangla month Poush.
Long time residents of Old Dhaka said eating pitha made with new rice, and flying kites on the occasion are an age-old tradition. "Buro-Buri" puja will be held in temples on the eve of the festival as well.
During the festival, kites start flying above roofs, amid the morning mist. As the day progresses, the festivities take on a new colour. The afternoon ends with a game of kite flying, while the night sky is illuminated with fireworks.
Preparations for the festival were seen in Shankharibazar, Tantibazar, Narinda, Sutrapur and Laxmibazar areas of Old Dhaka on Sunday.
Kites and natai (kite reels) are being sold at small shops. Many have started a seasonal business of selling kites.
Saddam Hossain, who came to Shankharibazar to buy kites, said they celebrate the festival on the rooftops and among themselves. "All year, we eagerly wait for Shakrain. It's like another Eid for us."
According to the shopkeepers, kites of different designs and shapes -- including Chokhadar, Maladar, Pankhiraj, Chalandar, Pandar, Kathadar, Prajapati, Dapas, Petidar, Pandar, Batur and Chil -- are available.
Ordinary kites are sold for Tk 5 to 25, depending on the shape and size. Foreign kites of different designs cost Tk 150 to 600. A thousand yards of Manja yarn from India or China costs Tk 150. However, the more you get, the less you pay.
Santosh Sur, proprietor of Shapnochura Departmental Store in Shankharibazar, said sales are lower this time, but with almost a week to go till the festival, business may take off.
For the second time, Dhaka South City Corporation is also organising the festival. The standing committee on sports and culture of the organisation will celebrate the event across all wards.