Officially closed, but not to officials
How govt officials are allowed entry when Ramna Park is closed to public for certain hours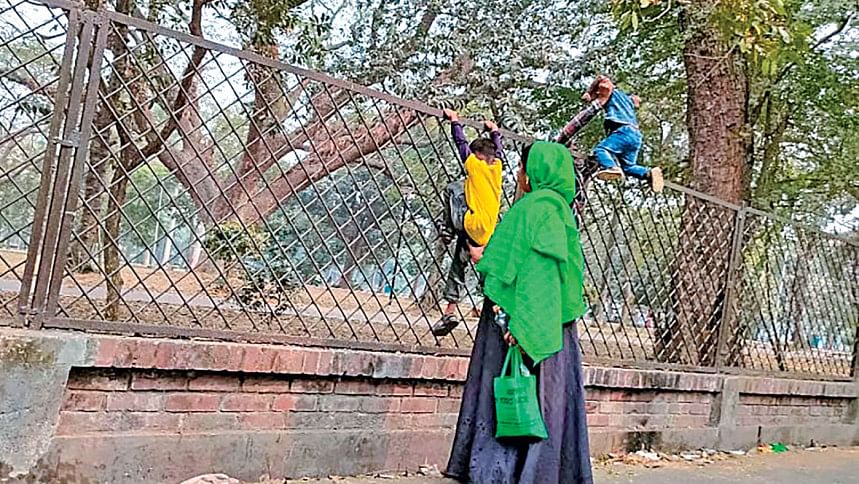 The iconic Ramna Park in the capital is closed to the public for certain hours of the day, but apparently, there are opportunities for some government officials and those who pay the right price to enjoy the greenery during those hours.
According to a notice stuck to the gate of the park -- which is managed by the Public Works Department (PWD) --, it is open to the public from 6:00am to 11:00am and then opens again at 2:30pm before closing for the day at 7:30pm.
However, during a recent visit, this correspondent found families and individuals inside the park cycling, walking and enjoying their time in nature during hours when the park was supposed to be closed to the public.
This correspondent stood outside the gates during the 11:00am-2:30pm closure and saw at least 20 government officials, mainly from PWD, showing their ID cards to Ansar members at the gate to gain entry.
In conversation with one of the Ansar members stationed at the gate, this correspondent was assured that he too could enter for a while in return for some money.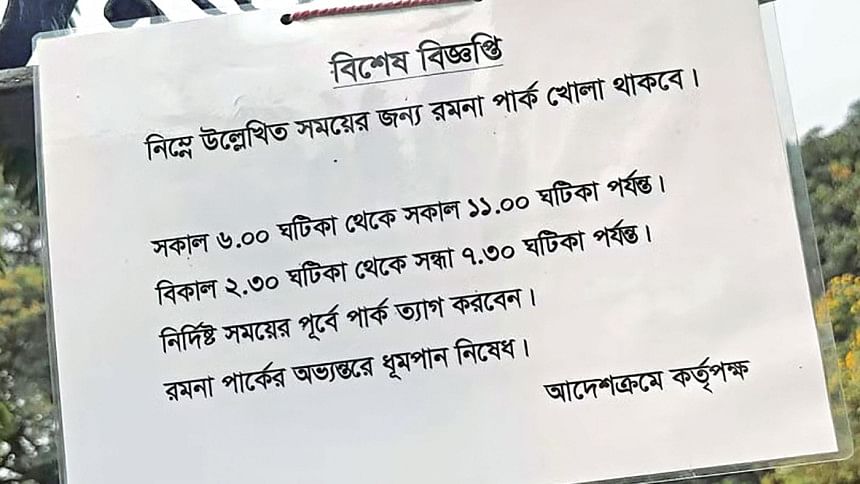 In 2020, the Ramna Park authorities set these time slots for entry to the park.
"What about us common people? Are we not entitled to enjoy the fresh air and greenery in the park?" said Didar Hossain, a shopkeeper in the area.
"I had heard about people being able to enter the park by paying the Ansar members at the gate, so I decided to give it a try. I offered Tk 200 to one of them, and he let me in without any questions," said Farzana, a student at a private university.
Shakib Ahmed, another private university student, said, "This park is not a commodity that can be sold to the highest bidder. It belongs to the people, and everyone should have equal access to it."
Shamsul Islam, deputy assistant engineer at PWD, who is in charge of the park, said the time limit for entering the park is the same for all visitors.
But PWD and other government officials manage to enter the park through Ansar members, the PWD official said.
Meanwhile, an Ansar member posted at the Shishu Park end of Ramna said, "Government officials are permitted to enter the park through special arrangements as the park belongs to PWD."
Abidul Hasan Shimul, Thana Ansar and VDP officer under Ramna, said strict action is taken against Ansar members if they are found guilty of allowing entry to the park in exchange for money.
Meanwhile, Prof Adil Mohammed Khan of urban and regional planning at Jahangirnagar University lamented the discriminatory policies that restrict public access to the park.
He called on the authorities to withdraw restrictions and open up the park for everyone.