Now S&P goes negative on Bangladesh economy
American credit rating agency stops short of downgrade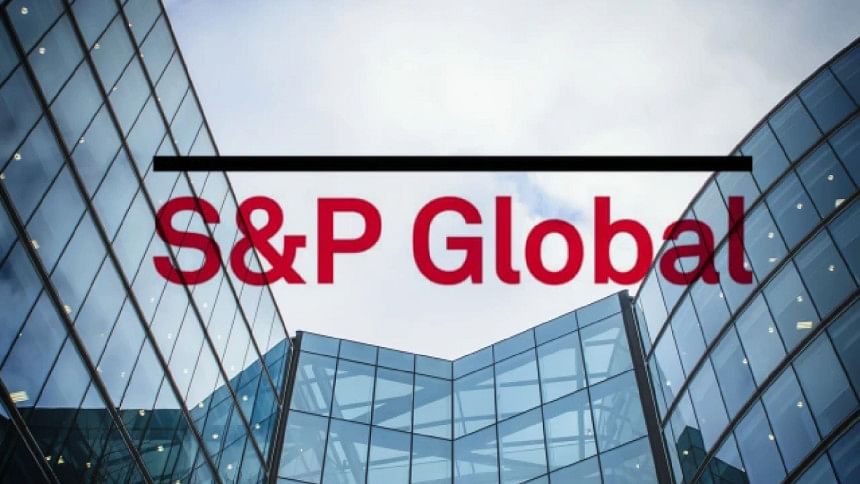 Global rating agency Standard and Poor's yesterday downgraded Bangladesh's long-term rating outlook from stable to negative on the back of a continued decline in foreign exchange reserves despite an ongoing IMF programme and lower import bills.
"We revised the long-term rating outlook on Bangladesh to negative from stable to reflect the risk that its external liquidity position could deteriorate further over the next 12 months," said S&P Global Ratings.
The 'negative' outlook reflects sustained pressure on Bangladesh's external position, marked in particular by a continued decline in foreign exchange reserves.
"Bangladesh's external financial assets have fallen markedly over the past year, despite the introduction of a sweeping IMF reform and funding programme, alongside a substantially lower current account deficit."
In January, Bangladesh entered into a 42-month loan programme with the International Monetary Fund to rebuild the country's diminished external buffers and to strengthen the management of its public finances.
In that time, Bangladesh's dollar stockpile declined about 7.3 percent; on July 19, which is the latest available data from the central bank, gross official reserves stood at $23.4 billion.
Earlier in May, Moody's downgraded Bangladesh's long-held credit rating on the same concerns over the country's external position after monitoring the situation for about six months. S&P, however, stopped short of downgrading the credit rating this time.
"We may lower the ratings on Bangladesh if net external debt or liquidity metrics worsen further," S&P said.
Should net external debt surpass 100 percent of current account receipts, or gross external financing needs exceed 100 percent of current account receipts plus usable reserves, on a sustained basis, S&P would be downgrading Bangladesh's 'BB-' long-term and 'B' short-term sovereign credit ratings.
"Lower generation of current account receipts than we expect, a higher overall current account deficit than we forecast, or a failure to materially boost foreign exchange reserves would indicate downward pressure on the rating."
The American credit rating agency could also downgrade Bangladesh if it observes a material and sustained rise in commercial banks' ownership of government debt as a proportion of the sector's total assets.
This would signify a limited ability for banks to lend more to the government without crowding out private sector borrowing.
"Our ratings on Bangladesh reflect the country's modest per capita income and limited fiscal flexibility owing to a combination of low revenue-generation capacity and high interest burden."
Bangladesh's per capita income, which S&P estimates to be less than $2,700 for fiscal 2023-24, remains one of its main rating constraints.
"This level of per capita income limits the fiscal and monetary flexibility needed to respond to exogenous shocks."
Evolving administrative and institutional settings represent additional rating constraints, S&P said.
"We weigh these factors against consistently high economic growth and an external position that's supported by substantive engagement with bilateral and multilateral development partners, large remittances from overseas Bangladeshi workers, and a globally competitive garment sector."
Despite this structural support, Bangladesh has witnessed a material decline in the strength of its external balance sheet and liquidity position, it said.
The economy is likely to expand at 6-6.4 percent over the next three years, reflecting a slight moderation compared with the growth trend of its long-term average real GDP.
Another drawback for Bangladesh is its political landscape, which remains polarised with considerable power centred on the ruling Awami League.
"The opposition's representation in parliament remains extremely small, limiting checks and balances on the government."
The highly concentrated domestic political conditions may constrain the effectiveness of institutions and undermine the predictability of future policy responses, it said.
S&P may reinstate a 'stable' outlook to stable if Bangladesh materially improves its external position.
This would be indicated by a substantial increase in foreign exchange reserves combined with a modest current account deficit, and healthy growth in current account receipts.
More favourable trade and financial flows will be necessary for Bangladesh's external settings to stabilise over the next 12 months, S&P added.
"We are already in a difficult situation, so there would not be any big impact of this downgrade by S&P," said Ahsan H Mansur, executive director of the Policy Research Institute of Bangladesh.
The IMF programme has not brought any improvement in the foreign exchange situation.
"There is no chance of the situation improving in the next six months -- there are lots of payment obligations pending. The forex situation is not heading in the right direction as of now," said Mansur, a former economist of the IMF.
For the situation to materially improve, the government needs a steely resolve.
The interest rate needs to go up further, the tax collections need to be ramped up and the government's expenditure needs to be cut substantially.
"It is tough to change these things. Nothing really is in favour of the government or the economy. It remains unclear whether the government has the time or the guts to do the policy changes needed," Mansur added.
The government though played down the significance of the outlook downgrade by S&P.
"This will have no impact on the Bangladesh economy," said BB Spokesman Md Mezbaul Haque.
Bangladesh's macroeconomic fundamentals are "very strong".
"Our expected growth rate is close to projection. As you saw, ADB [Asian Development Bank] recently revised its estimates upwards."
On July 23, ADB revised its fiscal 2022-23's growth estimate to 6 percent, which is higher than its April forecast of 5.3 percent. ADB's estimate is in line with the provisional growth estimate of 6.03 percent made by the Bangladesh Bureau of Statistics in May.
S&P's negative outlook on the Bangladesh economy would have had an impact had the government issued a sovereign bond.
"In the current global economic scenario, all countries are going through a stressed situation. Based on that, all ratings are seeing a change. Internally, there is no problem in the economy."