Noted physicist a victim of land grabbing
RDA took 5 years to take action against illegal construction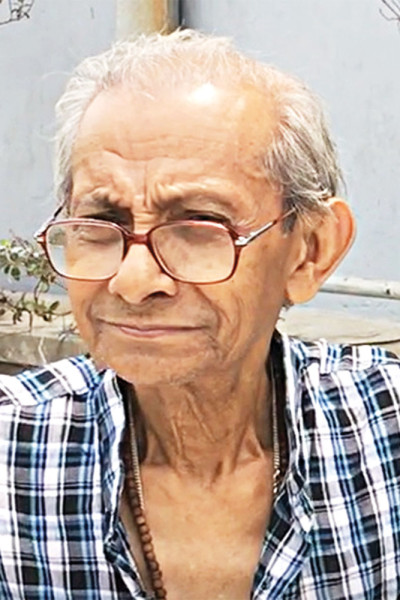 Due to the negligence of local authorities, a man got the opportunity to occupy a strip of land of his neighbour -- renowned physicist Prof Arun Kumar Basak.
Yahia Ferdous, the mutawalli of a waqf estate right beside Arun's land, has done this in Rajshahi city's Sagarpara area.
As Rajshahi Development Authority (RDA) took no significant action, Ferdous continued to harass the 82-year-old educationist for years.
In May, Ferdous lost a legal battle and was compelled to remove a structure he built on the occupied land. But he still did not let go of the land, as he cordoned it off with metal grilles, Arun said.
"I couldn't look after my properties, as I was busy with work and studies. My neighbour [Ferdous] exploited this situation. Now, I feel unsafe in my own house," Arun, professor emeritus of physics at Rajshahi University, told The Daily Star.
The land underneath Arun's house belonged to his wife Debika Basak. After her death last year, he inherited it.
In 2003, while constructing a two-storey building on his own land, Ferdous occupied a 2-feet-wide strip of Debika's land by breaking its boundary wall.
Debika then filed a complaint with Rajshahi Development Authority (RDA) over breach of construction rules.
RDA took seven months to issue a show-cause notice against Ferdous. By that time, Ferdous had already constructed his building, occupying a part of the land.
RDA gave a final notice to Ferdous in May 2008, five years after the initial incident, to remove the illegal structure.
But Ferdous challenged the decision in a Rajshahi court. At the same time, he accused Debika of occupying land of the waqf estate.
The court dismissed the case, terming it a "false case" filed to harass the professor's family.
When Ferdous appealed in 2014, a district court fined him Tk 25,000.
In 2017, Ferdous took the case to the High Court.
In January 2020, the HC upheld judgements of the lower courts and validated the RDA decision. It also asked Ferdous to seek pardon from Debika and promise to not harass the professor.
In October 2020, Ferdous removed the illegal construction but is still occupying the area, as he installed metal grilles around the place.
Arun has filed complaints with RDA again, but he is yet to get any response.
"I've gone to many people to find a solution, but nothing is helping," Arun said.
While visiting the scene, Ferdous took this correspondent to the disputed land by unlocking the metal entrance. He said he would remove the planted trees there to make Arun happy.
"The court asked me to keep the professor happy," he said.
Asked about his case, Ferdous said RDA officials advised him to lodge the case to get round the removal order.
Contacted, Abdullah Al Tariq, executive engineer of RDA, refused to comment, saying that he could not talk about the issue as he was busy. He told this correspondent to call next month.
While dealing with the case, Debika passed away in November 2020.