'Not a smart deal'
Rehman Sobhan on power purchase from Adani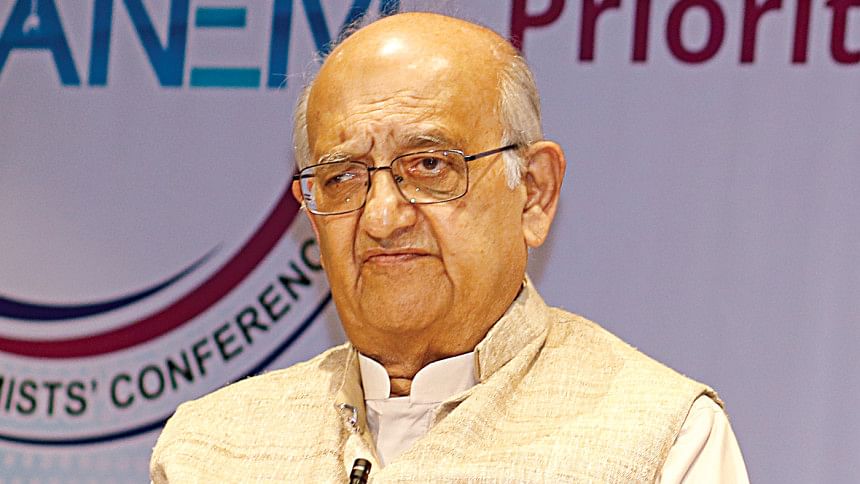 Bangladesh Power Development Board's agreement with Adani Power to purchase 1,496 megawatts from a coal-based power plant at Godda in Jharkhand needs to be revised, said noted economist Rehman Sobhan yesterday.
"This is certainly not a smart deal and it certainly needs to be reworked," Sobhan said at a session of the sixth Sanem Annual Economists' Conference held at the Brac Centre Inn in Dhaka.
Since the electricity generated by the Godda power plant would be exported, it must run on coal imported and not coal from Indian mines.
And as per the power purchase agreement signed in November 2017, PDB, which would be buying all the power generated by the plant, would be paying for the coal as well as its transport costs at the market rate, reports The Washington Post.
The Post has obtained the confidential 163-page document and got three industry analysts to review it.
The coal will most likely come from Adani's mines in Indonesia or Australia on Adani ships to an Adani-owned port in eastern India, then arrive at the plant on a stretch of Adani-built rail, The Post said.
The electricity generated will be sent to the border over an Adani-built high-voltage line. Under the contract, shipping and transmission costs will be passed on to Bangladesh, it said, adding that the 25-year deal is "hardly favourable for Bangladesh".
"I remember the original transaction with Adani. He was going to construct a plant inside Bangladesh and bring in coal from his coal mines in India. This was supposed to be growth-enhancing for the Bangladesh economy because the development would have been in the country," Sobhan said.
The deal signed ended up being "a very peculiar contract" as Bangladesh is paying for the coal he is bringing from his mine in Australia and also for its shipment.
So the cost of coal is turning out to be disproportionately high, said Sobhan, the chairman of the Centre for Policy Dialogue.
Adani Power has recently sent a request to PDB to issue a demand note that it can present to Indian authorities to open letters of credit for the coal import. In the letter, the coal price was quoted at $400 per metric ton, reports UNB.
This prompted the government to seek a review of the power purchase agreement.
"In our view, the coal price they have quoted is excessive -- it should be less than $250 per metric ton, which is what we are paying for the imported coal at our other thermal power plants," a PDB official told UNB.
The Adani power plant's coal price will be $346 per metric ton, which is much higher than the amount paid by the local coal-fired power plants, according to a report prepared by the Power Cell in January.
"We have already not negotiated a very smart deal, and for a country that is aspiring to be Smart Bangladesh, we can try to be a lot smarter when we enter into a transaction," Sobhan said.
The groundwork for the power purchase agreement was laid by Indian Prime Minister Narendra Modi during the 2015 state visit to Bangladesh, reports The Post.
Modi asked Prime Minister Sheikh Hasina to "facilitate the entry of Indian companies in the power generation, transmission and distribution sector of Bangladesh," according to an Indian foreign ministry readout of their meeting.
"After Modi's trip to Bangladesh, that country's power authority contracted with Adani to build a $1.7 billion, 1,600-megawatt coal power plant," said the report published in December last year.
For Modi, it was an opportunity to bolster his "Neighbourhood First" foreign policy and promote Indian business, the report said.
"Mr Adani got more than just his business acumen to support him in the deals that he makes, so what elements of the transaction are driven by political variables and what are driven by public interest, we do not really know," Sobhan added.