Not enough momentum
Fewer sales despite variety of sacrificial animals at Dhaka's cattle markets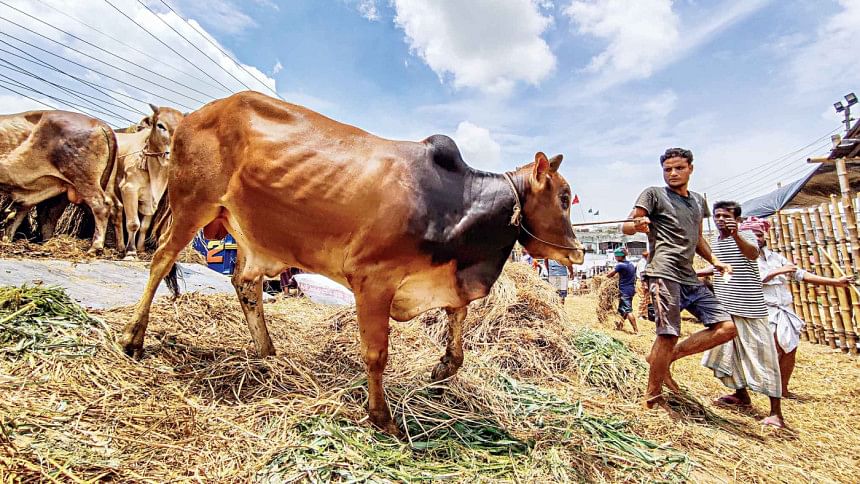 Dhaka's cattle markets have not yet seen the expected momentum, just two days before Eid.
The number of customers has increased compared to that of other days. However, most visitors are not making any purchases in the hopes of getting better bargains in the end.
Small bulls of Tk 60,000 to 1 lakh are in high demand. But the number of both bulls and customers are simultaneously worrying customers and traders.
"I brought 46 bulls from Dholaikhal cattle market a day ago, but failed to sell any of them so far. We are ready to sell mid-sized bulls for Tk 5,000 to 7,000 profit. The bargains are just not cutting it for us," said Kaiyum Fakir, a trader from Dholaikhal.
Faruk Hossain -- a customer from Mirpur Jahurabagh, who was trying to purchase a bull at Gabtoli -- said his target is to buy a bull within Tk 80,000.
"Last year, our budget was Tk 1,00,000. But this year, we had to cut it down due to financial problems, '' he said.
Abul Hossain -- manager of Lutfor Rahman, the leaseholder of the Gabtoli market -- said the number of sacrificial animals this year is fewer compared to last year's, and sales have also halved.
Meanwhile, Jorina Begum, a trader who brought two bulls to Gabtoli from Manikganj, said they have tried to sell the bulls at different markets in Manikganj but did not get a reasonable price.
The bulls cost Tk 4 lakh and 2 lakh, respectively, she said.
A variety of animals were seen at Gabtoli and Dholaikhal cattle markets in the capital, including white buffaloes, dumba goats, Brahma bull, Australian bull, Ulbaria bull, Nepali bull, and Bhutani bull.
"I have brought two Ulbaria bulls. There are only 10 in the country," said trader Mokhlesh, who is asking Tk 15 lakh for each.