No one to be homeless in Bangladesh
Says PM while giving homes to 33,000 families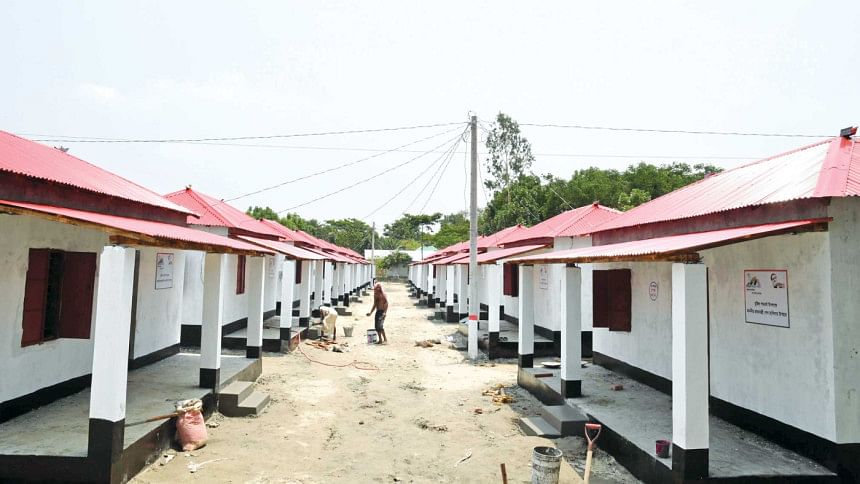 Prime Minister Sheikh Hasina yesterday pledged to ensure houses for all homeless people in the country.
"We have been able to ensure electricity for 100 percent people. Now 100 percent [homeless] people will get houses. None will remain landless and shelter-less in Bangladesh," she said.
The premier was addressing a programme marking the handover of about 33,000 government-built homes to another batch of extremely poor families as her Eid gift under the third phase of the Ashrayan-2 project. She joined the event from the Gono Bhaban virtually.
Hasina, also the Awami League president,  said she didn't know whether such a housing initiative was taken in any other country in the world.
"To me, power is to serve the people and work for the people. So, today I've been working so that not a single person remains homeless or shelter-less in Bangladesh."
The PM asked her party leaders and activists to follow the ideology of Father of the Nation Bangabandhu Sheikh Mujibur Rahman to bring smiles on the faces of unhappy people.
In an oblique reference to the recent claim by TIB that spending on Covid vaccination lacked transparency, Hasina said it would not be enough to count the prices of vaccines only, rather all expenditures of the vaccination programme should be counted.
"If you add all costs, you will get accurate information and know how many thousand crore taka was spent for it," she said, adding that the government vaccinated people free of cost.
Referring to the resurgence in Covid-19 in different countries, she asked all to remain cautious and follow the health protocol.
Md Tofazzel Hossain Miah, senior secretary at the Prime Minister's Office, conducted the house distribution function.