No let-up in dengue woes
Hospitals still grappling with large number of patients; 9 more die, 2,609 hospitalised in a day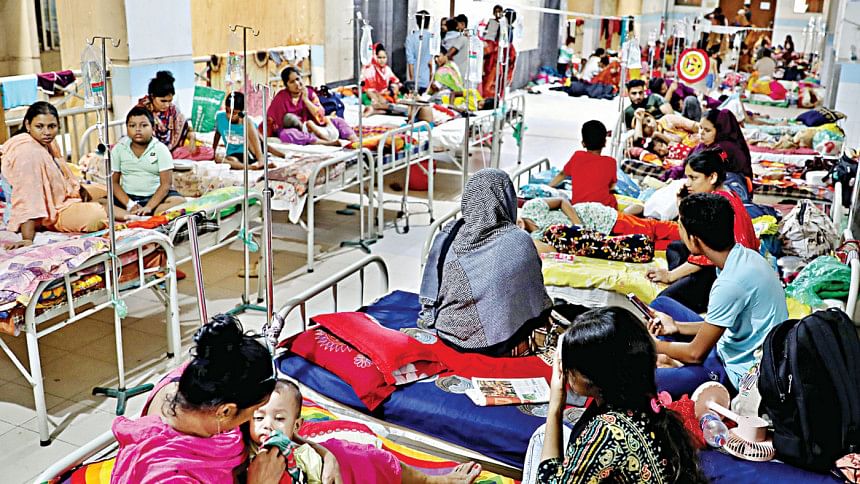 Jamal Hossain was having a moment of rest as his children -- Yasin, 8, and Fatima, 10, -- had started feeling better yesterday afternoon, four days after they were both admitted to Mugda Medical College Hospital with dengue.
The children were talking to each other with their beds brought together upon permission to make it easy for their father to look after them.
"Both my children were diagnosed with dengue around four days ago. They were hospitalised on Sunday after suffering from severe diarrhoea and vomiting. However, they are now feeling better," said Jamal, a resident of Jurain's Boubazar area.
This year, 11,886 dengue patients were admitted to this hospital -- the highest among all hospitals countrywide -- among whom 133 lost their lives.
Though the number of daily dengue patients has declined, new patients are still coming here on a regular basis. The hospital is currently treating 168 dengue patients.
Children are more prone to developing shock syndrome, which is risky for any dengue patient.
At least nine patients died, while 2,609 were hospitalised in the last 24 hours till yesterday morning.
With the new figures, the total number of deaths rose to 1,190, while the total number of cases this year was 2,44,698.
"We first admitted my mother-in-law after she was diagnosed with dengue in October. After she recovered, we had to admit my husband, as he was infected too. Now my three-year-old son Mohammatullah, also infected with dengue, is being treated here," said Rozina, a resident of Khalpar in Manda.
Laiju Begum, a resident of Madhya Badda, shared similar distress.
"About 40 days ago, we admitted my eight-year-old daughter Rita Aktar to a private clinic after she tested positive for dengue. She had recovered completely after a while. However, we had to rush her here as she had been suffering from fever for the past week," said Laiju.
Asked what was wrong with Rita, Laiju said the doctors here have prescribed her several tests and they will be able to identify the problems after the reports come in.
Dengue symptoms in children are slightly different than in adults. For adults, the initial symptoms are high fever and body aches. However, nausea and coughing are the primary signs for children (newborns to 12-year-olds), said HM Nazmul Ahsan, associate professor of Shaheed Suhrawardy Medical College and Hospital.
"More importantly, it takes around 48 hours for the situation to become critical for adults, while children only have 24 hours, which is why we suggest quick hospitalisation. Children are more prone to developing shock syndrome, which is risky for any dengue patient."