New Market Clashes: No headway in Nahid, Morsalin murder cases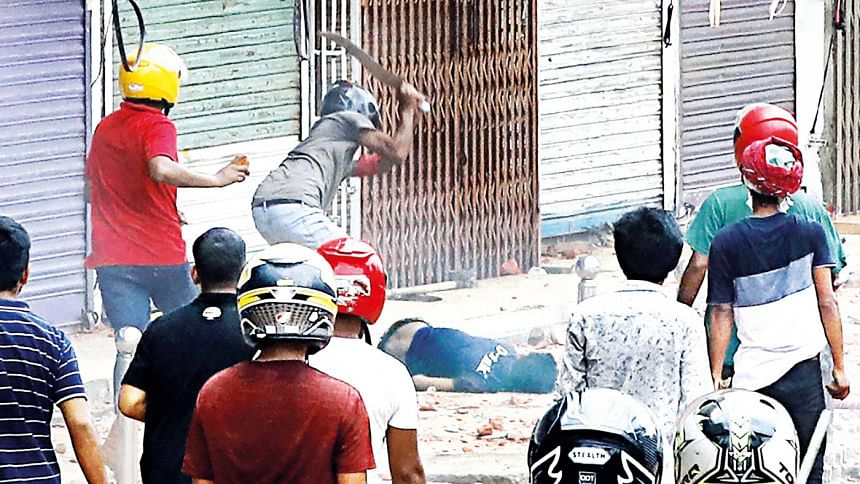 Over a month and a half have passed, but law enforcers are yet to locate the prime suspect in the murder  case of deliveryman Nahid Mia. He was killed during the recent violent clashes between Dhaka College students and New Market's shopkeepers.
No headway has been made in the investigation centring the murder of shopkeeper Morsalin either, another victim of the clash.
The prime suspect in the Nahid murder case, Emon Bashar, an activist of Chhatra League, remains on the run, as police's detective branch (DB) is yet to find him. Emon, also a Bangla department student of Dhaka College, reportedly hacked Nahid during the clash on April 19.
Nahid later died in a hospital.
"We have no update about him [Emon]. We couldn't yet ascertain whether he's in the country or not," HM Azimul Haque, deputy commissioner of DB's Ramna division, told The Daily Star on Thursday.
The DB official said it will take time to submit the charge-sheet, as the prime suspect is still on the run.
The brawl that started on April 18 night had spilled into the next day, leaving two dead and others -- including, journalists, students and police officers -- wounded.
Nahid Mia (18), deliveryman of a computer accessories shop, and Morsalin (26), a shopkeeper at a clothing store, were killed during the clashes. DB has been investigating the two murder cases.
A total of five cases­ were filed in connection with the clashes. In one of them, police accused 24 individuals, mostly BNP leaders and members of its affiliated bodies. Besides, over 1,700 unnamed people were accused in five cases.
Officials said it is important for investigators to arrest Emon first to file a charge-sheet. DB seized two of Emon's mobile phones from his college hostel after the incident.
Six Chhatra League activists of Dhaka College were arrested in the Nahid murder case.
Footage and photos showed that Nahid was lying still in front of Nur Jahan Super Market when a young man wearing a black helmet hacked him with a machete. Police later identified Emon.
Investigators suspect since he's from a border district, he might have fled to India.
According to witnesses, Morsalin was struck by a large brickbat in front of Chandrima Super Market around noon that day. They are yet to identify who threw the brickbat at him. Officials are unsure if the attempt was deliberate.
Police arrested BNP leader Mokbul Hossain, who owns two shops in the capital's New Market, for instigating the clashes.
Before his arrest, Mokbul told the media that police filed a politically motivated case against BNP leaders and its affiliated organisations.