Nilsagar: no longer a favourite of birds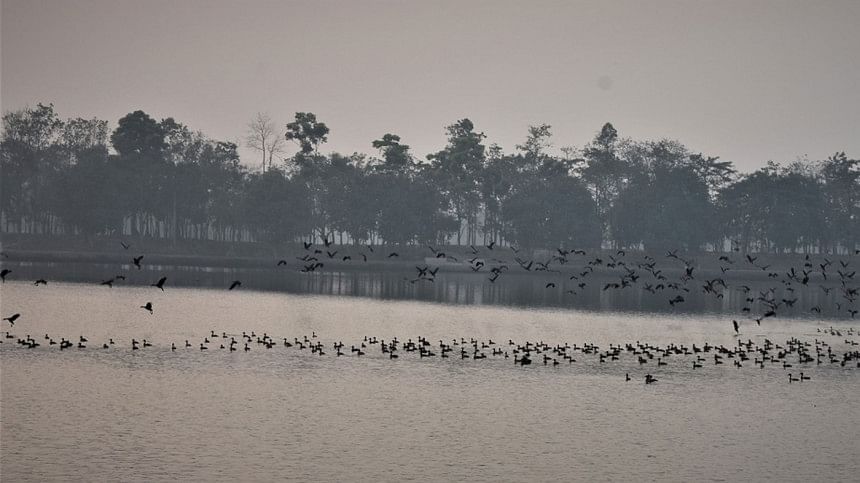 Nilsagar, a large man-made waterbody in Nilphamari, was once abuzz with the chirping and fluttering of thousands of migratory birds during winter. However, things changed after 1999.
The picturesque location started to greet lesser avian visitors, as century-old indigenous trees were replaced by foreign varieties.
All this started 24 years ago in December 1999, when authorities took up a project to develop Nilsagar into a bird sanctuary. About Tk 1 crore was granted for the initiative.
While implementing this project, authorities ignored the warnings of experts on birds and their natural habitats, according to CAMP, a local NGO.
Ironically, the "bird sanctuary" started receiving fewer birds since almost all century-old indigenous trees like old banyan, blackberry, kadam, mango, jackfruit, and fig were felled during that time, said locals.
Instead, foreign trees like sissoo, mahogany and eucalyptus were planted, they added. These trees neither grow big to provide shelter for birds nor produce food for them.
Nilsagar is situated at Dhobadanga village in Grogram union under Nilphamari Sadar upazila, 16 kilometres north-west of the district town.
According to a local history book written by Nasiruddin Ahmed, Raja Virat, a once-famous monarch, dug the vast waterbody in the seventh century after a Hindu goddess told him to do so in a dream.
He named the waterbody "Binna Dighi", after the name of his beloved daughter "Binnaboti". But after the place was declared a sanctuary, it was rebranded as Nilsagar, ignoring locals' objections.
Before, migratory birds of eight to 10 species used to go there in November and stayed till March-April, Shyamlal Mohonto, an elderly of the village, told this correspondent.
"There used to be many trees here. Guest birds ate their fruits and spent nights on them. There are fewer birds now because large trees are scarce," he added.
Prof Birendrnath, head of zoology department at Nilphamari Government College, said, "Migratory birds are sensitive and feel disturbed if they find the slightest change in ecology."
During a recent visit to Nilsagar tourist spot, this correspondent noticed only 8,000 to 10,000 birds flying around. Before felling trees, locals estimated that their population was nearly one lakh.
Rubel Islam, caretaker of Nilsagar, said migratory birds do not even sit on the foreign trees. They float on the waterbody all day and fly to surrounding villages after sunset in search of food and shelter.
Contacted, Deputy Commissioner of Nilphamari Pankaj Ghosh said, "To ensure safe shelter and food for birds in Nilsagar, we've launched a project for creating natural forest by planting bird-friendly local trees. The number of migratory birds is increasing again as a result."