News Analysis: 'Uncle, please stop the work' – Children's pleas fall on deaf ears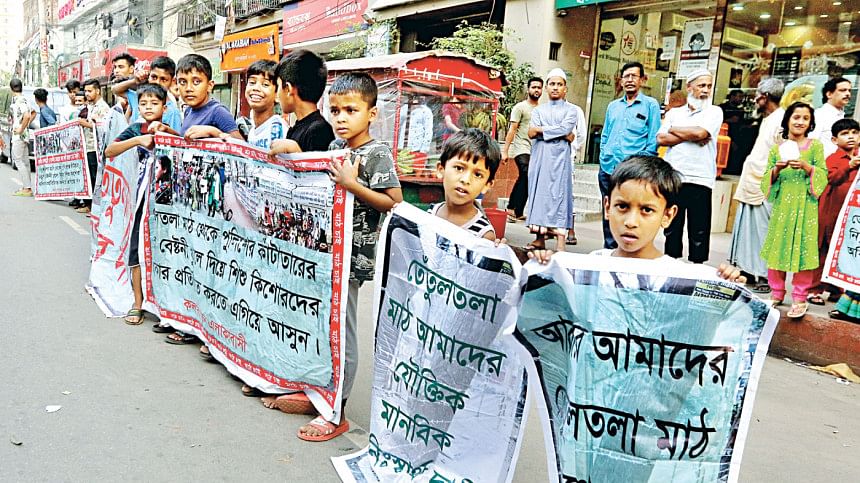 Inside the concrete jungle that Dhaka city has turned into, with buildings frequently sprouting up next to each other, the Tentultala playground has been a breathing space for residents of Kalabagan for decades.
For them, this small piece of land on Kalabagan's Lake Circus Road served as more than just a playground. It is the only open recreational space, covering around one bigha of land, in the area used for social, cultural and religious activities.
It is where locals stand shoulder to shoulder to perform Eid prayers or where they comfort each other during funeral prayers. It is where occasions like Independence Day, Victory Day and International Mother Language Day were celebrated together by them all.
The middle-aged came for their daily walks, teens dribbled the ball amongst themselves, some practised their bicycle skills, while kids from nearby buildings and slums dropped by every evening to liven things up further.
But this open space -- a refuge from the daily grind of life -- will no longer be available for the locals as police, despite protests and repeated calls from residents, are continuing their construction of a new building for Kalabagan Police Station.
The police officials have appeared to be so rigid with their plan to occupy the ground that they even detained Syeda Ratna, a leader of the protests to save the Tentultala, along with her 17-year-old son.
The two were released 13 hours later after police faced a barrage of criticism for the detentions.
Eminent citizens, conservationists, green organisations and rights bodies have demanded that the government keep the ground open to all and stop the construction of a police station there.
However, nothing has worked as the construction work continued even yesterday amid police security and barbed wire boundaries.
Due to rapid population growth in the city, the need for expanded and better-equipped police too has increased.
The number of police stations too has gone up in the capital in recent times and so has their workforce and workload.
However, many police stations, including the one in Kalabagan, have been making do with an office in a rented building.
But why are the law enforcers trying to get their hands on this particular piece of land in the heart of the capital, one that has been used as a children's playground and more for years, and that too by intimidating the protesters?
Why are they so adamant in a situation when most playgrounds and open spaces in Dhaka have been invaded by concrete structures or encroached on by locally influential people?
Urban planners have been voicing that in a city of over 20 million, considering the density of population in each ward, there should be at least over a dozen parks and play spaces in a single ward.
The situation in Dhaka, unfortunately, is dismal.
According to the draft Detailed Area Plan, 25 out of 75 wards under Dhaka South City Corporation, and 10 out of 55 wards under Dhaka North City Corporation do not have a single park or playground.
Psychologists warn that the inadequate playgrounds and subsequent absence of physical activity negatively impacts the mental and physical growth of the children as they have no space to play and interact with friends.
Kalabagan police's move to construct the building also goes against existing law and directives given by the High Court and city mayors.
According to the Playground, Open Spaces, Gardens, and Water Bodies Conservation Act 2000, no one can change the characteristics of a playground.
The HC in a judgment in 2014 gave a specific directive for the Deputy Commissioner's office to take action against any encroachment on open spaces or playgrounds.
DSCC Mayor Sheikh Fazle Noor Taposh recently announced he would build a playground in every ward.
However, before he could build one, an existing one is on the verge of obliteration.
The blatant refusal to respect public demands to save the playground as it is makes us wonder if no other place could be found for building their office. Do the local children's future and wellbeing not matter to them anymore?
Even while construction continued yesterday, children of the area watched silently from a distance. One was suddenly heard saying, "Uncle…please stop the work."