New rail line to link Shariatpur
Proposal for feasibility study submitted to BR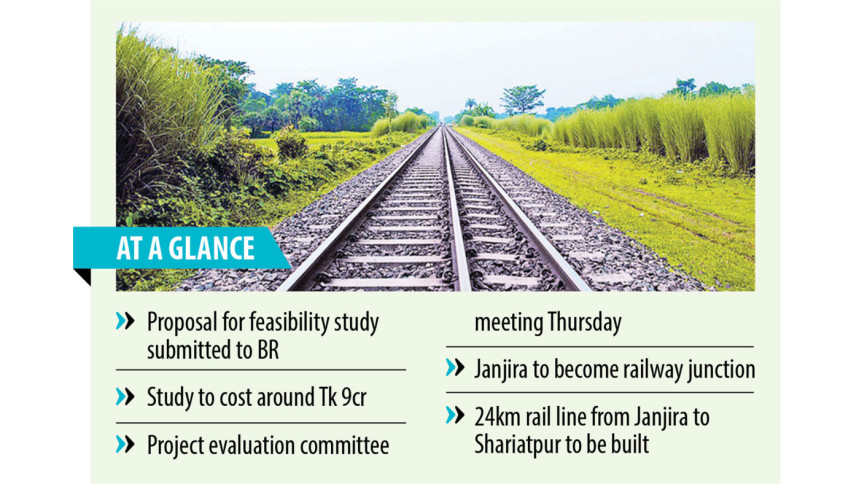 Bangladesh Railway (BR) is considering linking Shariatpur district headquarters with the railway network to implement the government's plan of taking railway services to all districts.
Chief engineer's office of BR [west zone] has already submitted a proposal for carrying out a feasibility study for constructing a 24-kilometre rail line from Janjira to Shariatpur and a railway junction at Janjira.
A committee led by BR Director General Dhirendra Nath Mazumder will hold a meeting on Thursday to examine the proposal, said BR sources.
The move comes months before the government plans to open the Padma bridge, which will connect the Mawa and Janjira end of the river.
Road Transport and Bridges Minister Obaidul Quader yesterday reiterated that the long-cherished bridge would be open to the public by June this year.
Currently, BR is implementing a Tk 39,246.79 crore Padma Bridge Rail Link Project to build a 169km rail line from Dhaka to Jashore through the Padma bridge.
There will also be a station at Shariatpur's Janjira point.
While visiting the railways ministry in October 2014, Prime Minister Sheikh Hasina instructed the authorities concerned to bring all districts under the railway network.
Currently, 44 districts are under the 3,000km network of BR.
Besides, a lawmaker from Shariatpur in December 2020 sent a semi-official letter to the railways ministry, asking to expand the rail network to Shariatpur district headquarters under the Padma Bridge Rail Link Project, according to sources.
However, BR found that no new work can be incorporated into the rail link project, which is being implemented by China Railway Group Ltd under a commercial contract.
Under the current circumstances, BR's planning cell in June last year asked the chief engineer of BR's west zone to prepare a project for carrying out a feasibility study for the line and a junction at Janjira.
Contacted, Chief Engineer Monirul Islam Firoji said they have already sent a proposal to the BR headquarters. Replying to a query, he said the study would cost around Tk 9 crore.
Another top railway official said the move is still at a very preliminary stage and would require more time.
He said once the project is approved by the DG-led committee, it would go to the railways ministry for approval. After the railways ministry approves the proposal, it would be sent to the planning ministry.
The feasibility study would start after the planning minister's approval. If the project is found to be feasible, BR will have to take another project building the line and the junction said the official under anonymity.
"This is a long process," he added.
Contacted, the BR DG said they have taken the move as per their plan to bring all districts under the railway network. "If we find the project to be feasible, then we will move forward with it," he told this correspondent yesterday.