Neglected, they demand fair pay, promotions
Health assistants urge govt to end discriminatory policies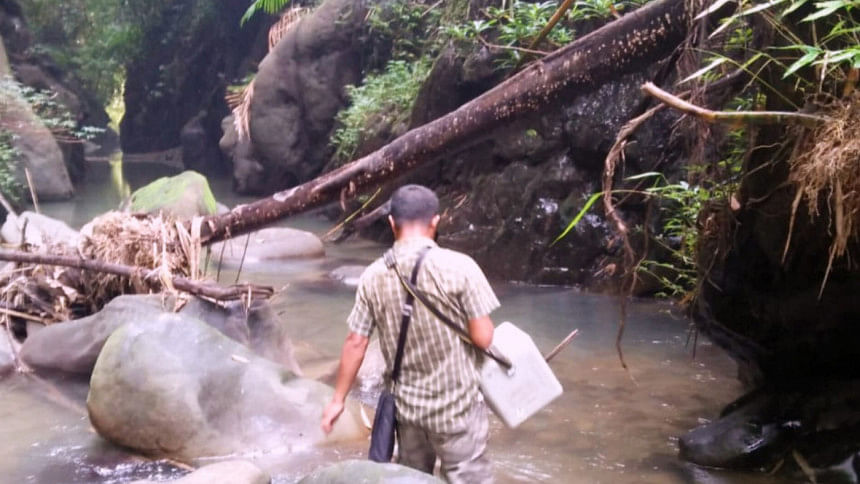 It was 2021. Braving flooding in the Padma basin which disrupted daily life and rendered vast stretches of land uninhabitable in Manikganj,  a group of local  health workers toiled tirelessly to safeguard the health of children disregarding their own.
Naimul Islam Badal, a health assistant, was one of them.
 "We conducted the campaign on boats to ensure vaccination of children as the  floodwaters had left no safe ground for conducting campaign," he told this correspondent recently.
But he is not alone. Most of the health assistants this newspaper have talked to shared similar stories of commitment and resilience.
Harin Joy Tripura is one of them. His responsibilities extended across the rugged terrain of Sajek Valley in Bandarban.
"During my 10-year-long career, weather or disasters couldn't  stop me from my duty. I have many stories to share," said Harin.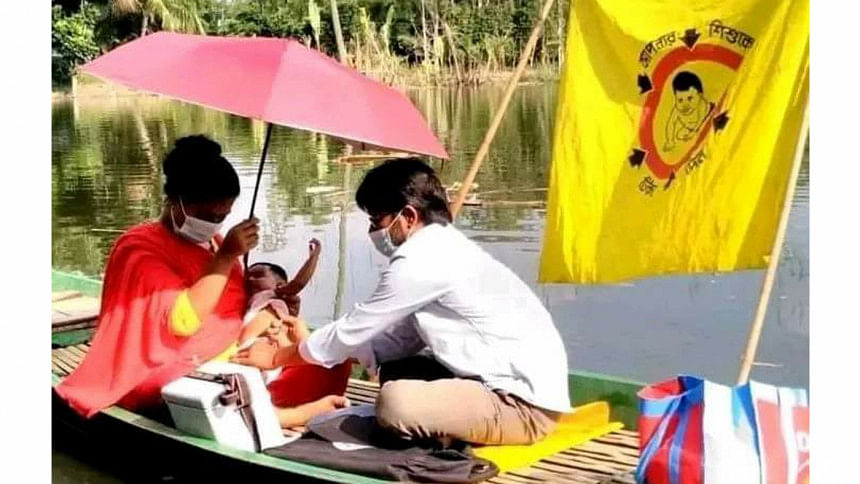 During the 2020 Measles-Rubella drive, he even had  an encounter with a wild bear on his way from Lungtianpara to Gandachhara in Sajek to vaccinate children.
Despite the obstacles they faced, these health assistants were instrumental in achieving remarkable child vaccination coverage. Harin Joy said despite being a remote place, the Sajek Valley boasts a coverage rate of around 70 percent, a mere 10 percentage points below the national average of 80 percent.
Stories of commitments like that of Harin's are not an isolated incident. This is more or less the story of 26,500 health assistants across the nation.
Their relentless efforts in the face of adversity had significantly contributed to the success story of immunisation in the country and helped to curb malnutrition, and child and maternal mortality. Besides, they also played a pivotal role during Covid-19 vaccination campaigns.
However, their dedication had not translated into the recognition they rightfully deserved. Striving for over two decades, their plea for improved government pay remained unanswered.
The role of a health assistant is a block position, and their appointments and retirements occur within the 17th-grade pay scale, in accordance with the recruitment rules.
According to the latest Bangladesh National Pay Scale implemented in 2015, basic salary for a 17th-grade employee is Tk 9,000, which increases to the highest Tk 21,800 during their 25-year job period.
"With decades of grassroots experience, I can say that health assistants play a vital role in implementing the government's preventive healthcare programmes," said Dr Satyakam Chakraborty, former line director of Hospital Service Management at the Directorate General of Health Services.
"According to the rules, health assistants are not entitled to demand higher pay than specified in the job conditions. However, the government has the option to consider their request as a gesture of acknowledging their contribution," he added.
In early 2020, Bangladesh Health Assistant Association enforced a work stoppage to realise their demand, which forced DGHS to suspend the nationwide measles-rubella campaign.
Consequently, a meeting at the Ministry of Health and Family Welfare on February 20, 2020 decided to amend the recruitment regulations for health assistants, aiming to enable their promotion to the upper grade.
The ministry, however, set a condition for this -- all the health assistants would be required to achieve a two-year technical diploma degree to be employed under "technical cadre" and be promoted.
A committee formed in the same year in this regard, however, submitted a draft curriculum for a one-year diploma course.
"We were tasked to draft a one-year course curriculum, but we have put a note that the curriculum should span two years. Otherwise, it will not resolve the plea for better pay," said Dr Satyakam Chakraborty, also the head of curriculum adoption committee.
Around three years have passed since Dr Satyakam submitted the draft curriculum, but DGHS is yet to finalise it.
Against this backdrop, representatives of Bangladesh Health Assistants Association met DGHS Director General Prof Abul Bashar Mohammad and other high-ups on August 10.
"The officials gave assurance that our demand would be met soon," said Sheikh Rabiul Alam Khokon, convener of the association.
"Other government officials, such as those of primary education and agriculture who entered under the same job conditions, have received promotions through rule amendments. We urge the government to put an end to this discrimination," he added.
Talking to several officials concerned, this correspondent, however, learnt that the process is complex and lengthy, and involves multiple ministries.
"The approval for improved pay will not be immediate. Once the health ministry finalises it, there will be a need for vetting by the public administration ministry. We have been working on addressing this matter," said Dr Rasheda Sultana, additional director general (administration) at DGHS.
In 1974, health assistants were first recruited for smallpox and malaria vaccination programmes and those diseases have been eliminated.
On April 7, 1979, the jobs of the health staffers were made permanent under the Expanded Programme on Immunisation (EPI), under which vaccinations against 10 types of diseases are being administered to people in 1.2 lakh centres across the country.