Nature-based solutions for sustainable dev
Emphasises PM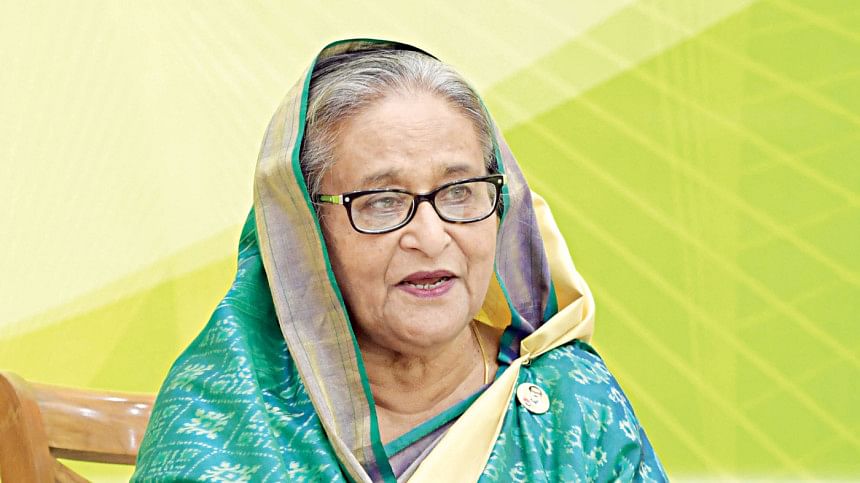 Prime Minister Sheikh Hasina yesterday directed the authorities concerned to go for nature-based solutions to achieve sustainable development keeping the environment protected. 
"The development would never be sustainable unless we do it coordinating with environment. So, we have to go for nature-based solution keeping it in mind," she said.
 The premier said this while addressing an event at Bangabandhu International Conference Centre (BICC) on World Environment Day and Environment Fair-2022 coinciding with "National Tree Plantation Campaign" and "Tree Fair 2022". The premier joined the "National Tree Plantation Campaign" and "Tree Fair 2022" virtually from her official residence Gono Bhaban. 
Hasina said the country should go for development but, it will have to be done following nature-based solution policy. "This is urgently needed," she added.
 She said the government has clear instruction that if any tree is needed to be cut for any development project, then five times more trees have to be planted.
Hasina reiterated her call not to spare single inch of arable land uncultivated as the world is under threat of scarcity of food grains due to the Covid-19 pandemic and Russia-Ukraine war.
"Our land is fertile and we have manpower. We have to produce our own crops. We produce whatever we need. We will have to shun our dependency on others."
Hasina also underscored the need for tree plantation and afforestation to keep the nature, environment and ecology of the country protected as well as ensuring improved and beautiful life of the future generations in the deltaic Bangladesh.
She also called upon all to plant tree saplings.
Later, the premier planted three saplings -"Jam", "Palash", "Neem" on Ganabhaban premises.