National footballer 'forced' out of her home
Accuses neighbours of 'continuous disturbance'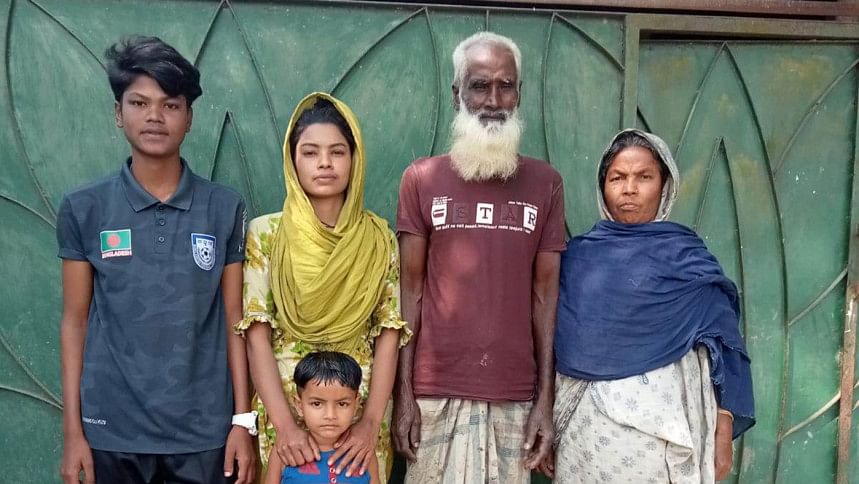 Mili Akter, 17, goalkeeper for the nation's much-lauded women's football team, was forced to leave her home with her family two months ago, following continuous trouble created by her neighbours.
The family is now living at a rented house in Nandail Chowrasta area of Mymensingh.
Mili, the daughter of a banana vendor, hails from Baroigram village in Chandipasha union of Nandail.
As the family barely had a roof over their head, a government house was allocated for them in 2018 under the Ashrayan Project-2. She, her elderly parents, and four sisters had been living in that small house since then.
But on February 14, Mili lodged a complaint with Nandail Police Station, accusing four persons, including one Abul Hossain, of forcibly driving them away from their own home, through continuous harassment.
Mili claimed that her uncle Abul Hossain, who also happens to be their next-door neighbour, has been bothering them in various ways for years.
According to Mili, Abul, a retired railway employee, and her family members keep piled up garbage in front of her house. Besides, stagnant water from Abul's tube-well has blocked the entrance to the home.
Apart from playing as a backup goalkeeper in the Bangladesh national team, Mili regularly represented the red and green side at the under-15, 16 and 17 levels, and achieved numerous accolades.
"But due to the family crisis, I'm currently on leave and staying back at home. My training has come to a standstill because of this," she told this correspondent recently.
Contacted, Md Mizanur Rahman Akanda, officer-in-charge of Nandail Police Station, said, after getting the complaint, sub-inspector Aloy Kumar Sarkar visited the spot and asked Abul and his family to settle the feud as soon as possible.
"We have also told the local public representatives to resolve the ongoing dispute between the two families. If it is not settled within a short time, we would go for legal action", said the OC.
Shahab Uddin Bhuiyan, chairman of Chandipasha union parishad, said he tried to talk sense to Abul on several occasions, but he didn't budge.
"We'll try to solve the matter as soon as possible", he added.
Contacted, Abul denied causing any trouble to Mili's family, and said he rather has a friendly relation with them.