Road to Freedom: This Day in Bangladesh Liberation War History
My aim is to make Pakistan armed forces surrender: Lt Gen Aurora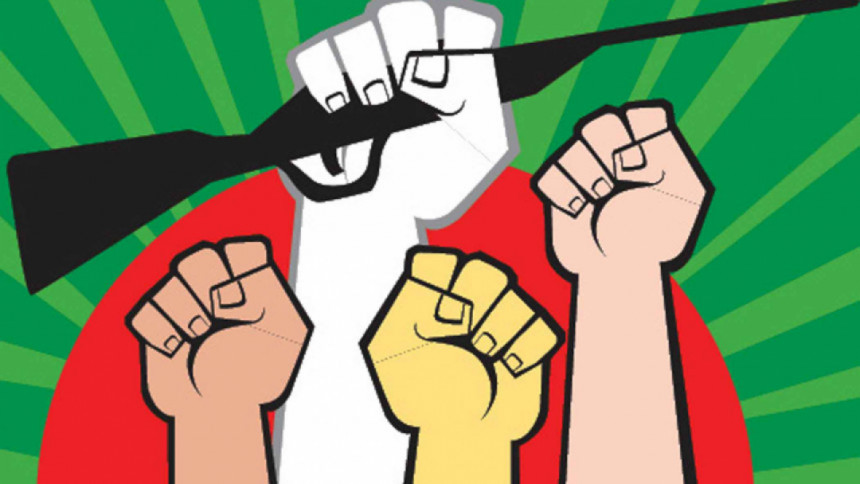 December 4, 1971
ON THE WAR FRONT
The Mitro Bahini (India-Bangladesh Joint Command) swung into action against Pakistan today. The air force of the Joint Command bombed Dhaka, Chittagong, Narayanganj, Chandpur, Jessore, Syedpur and Lalmonirhat. The Indian Air Force strafed and bombed eight West Pakistani airfields including Sargoda, and two near Rawalpindi and Lahore.
The navy of Mitro Bahini pounded Chittagong and Cox's Bazar and destroyed two ships. Two ships were captured on the sea.
An air'and'sea blockade had been set up to prevent the Pakistani troops in East Pakistan from being resupplied or reinforced from West Pakistan.
The rail link at Akhaura was cut. Several towns in East Pakistan fell to Mitro Bahini's hands. Fighting was continuing near Jessore, Satkhira and elsewhere. In the Western sector of India, there was fierce fighting in Husseinwalla.
Earlier this morning, Lt Gen Jagjit Singh Aurora, general officer commanding in chief of the Indian and Bangladesh forces in the Eastern Theatre, said at a briefing for newsmen: "My aim is to make the Pakistan armed forces surrender … to get Bangladesh to have their own type of government.
"The only limitation" the government had placed on the offensive "is not to cause unnecessary damage to the infrastructure of Bangladesh, which I think is quite right," added Aurora.
PAKISTAN HEADED FOR TOTAL DECIMATION
By committing aggression against the entire people of India and Bangladesh, the military junta of West Pakistan only paved the way for its own total decimation as a power base, said Hossain Ali, high commissioner of Bangladesh in a statement today. Referring to the declaration of war on India by Pakistan, Hossain Ali expressed the hope that this war would be "the final war" as Pakistan President Yahya Khan had described it.
"The 75 million people of Bangladesh stand today solidly by their Indian brethren in their hour of peril," added the Bangladesh high commissioner.
YAHYA VOWS TO CRUSH FOE
Yahya accused India today of having launched a full‐scale war and told his countrymen it was time "to give a crushing reply to the enemy".
"We are fighting for our country's integrity and honour," he said in a broadcast. "God is with us in our mission.
"Our enemy has once again challenged us -- India's government has launched a full‐scale war on us," he said.
Speaking in Urdu, although he normally addresses the nation in English, Yahya said India's "hate and enmity" toward Pakistan were known to "the whole world".
"India has always tried to weaken and ruin Pakistan -- this is India's biggest and final war against us," he said.
He addressed his countrymen as "120 million Mujahids", followers of Islam. "The time has come for the heroic Mujahids of Pakistan to give a crushing reply to the enemy," he declared.
CHINA DENOUNCES INDIA
China's Acting Foreign Minister Chi Peng‐fei denounced India today for what he described as India's continued expansion of "armed aggression against Pakistan" and implied that India was acting with the support and encouragement of the Soviet Union.
NIXON-KISSINGER TELEPHONE CONVERSATION
In a telephonic conversation, US President Richard Nixon discussed today the possible US response to Indo-Pak crisis with his Assistant for National Security Affairs Henry Kissinger. As to Nixon's query about taking the issue to the Security Council, Kissinger commented, "At the Security Council, the Indians and Soviets are going to delay long enough so a resolution cannot be passed. If it was, the Soviets would veto. UN will be impotent. So the Security Council is just a paper exercise -- it will get the Post and Times off our backs. And the Libs will be happy that we turned it over to the UN. The damage won't show up for a few years. At the moment we retrench around the world, this proves that countries can get away with brutality."
Kissinger rather suggested that the economic aid to India should be stopped as a measure to squeeze the country.
Nixon agreed to this plan and added, "Let's get some PR out on them -- put the blame on India. It will also take some blame off us. Our story about getting off militarily didn't get much play. They will feel the economic one. We have got to help rebuild Pakistan."
Shamsuddoza Sajen is a journalist and researcher. He can be contacted at sajen1986@gmail.com