A municipality or garbage dump?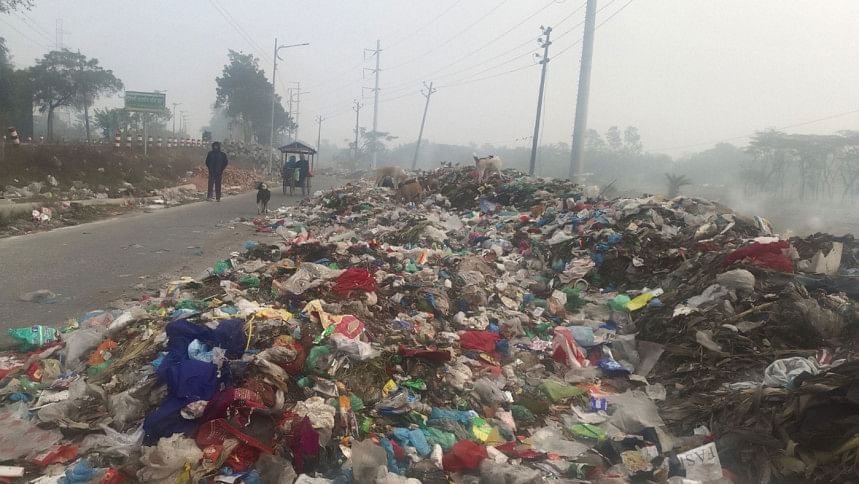 The entrance to Patuakhali municipal area, the gateway to Kuakata, has now transformed into a dumping ground as the authorities are yet to set up a designated spot for garbage dumping.
According to sources at the municipality office, around 30-32 tonnes of household waste are being dumped regularly on the sides of the Patuakhali-Kuakata highway near the municipality's entrance.
While the unplanned dumping of garbage causes inconvenience to tourists and locals, the strong stench coming from the space has made the area unsuitable for living.
Protesting against the issue, a few conscious citizens have submitted a petition to the Patuakhali municipality mayor, demanding the removal of waste from the spot.
The petition was submitted to the municipality office following a press conference, which was organised at Patuakhali Press Club on January 18.
As per the petition, household wastes from the area are dumped on the road on the northern side of the Patuakhali Bridge toll plaza, which is next to the Patuakhali-Kuakata highway.
This area is home to about 10,000 people.
Earlier, the waste used to be dumped on the Laukathi river banks, near BSCIC industrial area, which was causing serious harm to the waterbody and its marine life.
On September 4, Manjur Ahmed Chowdhury, chairman of National River Conservation Commission, visited the area and instructed the authorities concerned to clear the river banks, banning the unplanned disposal of wastes around the riverbed.
Since then, wastes are being dumped on the highway, as the municipality has no dumping ground.
"Strong stench coming from the waste and fly infestation has made this residential area unliveable. We cannot even open the windows because of the stench," said Kalam Talukder, a local.
While most renters have chosen to relocate to other neighbouring areas, the elderly living in Dakshin Bongo Briddhashram -- just 100 yards away from the main entrance to the area -- have no other option but to live in this unhealthy environment, said Zakir Hossain, director of the old home.
Meanwhile, kerosene is used to burn garbage, which is detrimental to the environment, said Dr Ekramul Nahid, municipality medical officer.
Contacted, Patuakhali Municipal Mayor Mohiuddin Ahmed said a dumping ground is being constructed on 16 acres of land located on the other side of Laukathi river in Lohalia at a cost of around Tk 27 lakh.
However, it's not possible to transport the waste materials as the bridge connecting the two areas is still under construction. "Once the bridge is ready, we will ensure that waste is disposed of in a planned manner," he added.