A metaphor of asymmetrical development
Remote govt pry school runs sans building being a metaphor of sheer negligence and disproportionate development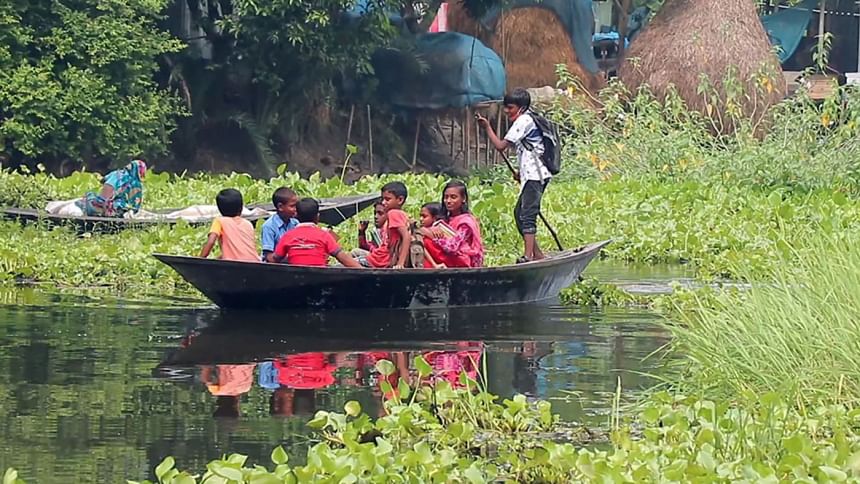 At a first glance, you may not believe that it's a government primary school. The ramshackle tin shed structure houses Dayarampur Government Primary School. All activities including the academic and administrative have been going on under the tin shed since its inception in 1991. The school, which is located at Dayarampur village in Haripur union of Pabna's Chatmohor upazila, was nationalised in 2017.
However, there has been no development work even after its nationalization. A little to moderate rains flood the school disrupting normal functioning.
The school is the only recourse for some 150 children coming from the surrounding villages on the banks of the sprawling Chalanbeel.
"Since its inception, the school has been imparting education among the children of Chalanbeel area. Finally, the school was nationalised in 2017. However, there has been no touch of development in the last four years," Abul Kalam Azad, acting headmaster of the school, said.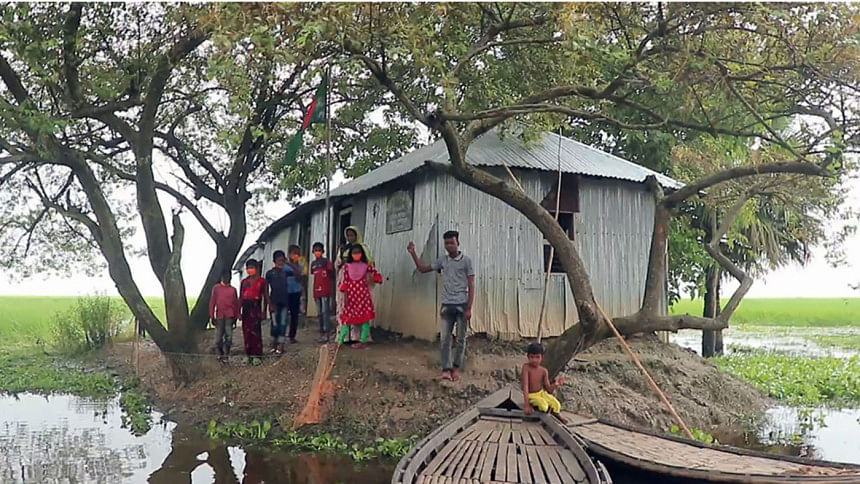 As the school is in the middle of Chalanbeel, the school remains inaccessible without boats for a few months every year.
The 40-foot-long tin shed is the lone establishment that houses five classrooms and an administrative office, he said.
"Academic activities of around 154 students reading in grade one to grade five, administrative activities—all are going on in the lone tin shed hampering both academic and administrative work," Abul Kalam Azad said.
Tamim Iqbal, a fifth-grader, said, "We are to attend classes along with the students of other classes hampering our academic progress. We also do not have access to a toilet in the school."
Arifa Khatun, another fifth-grader, said that they often have to miss out on classes due to its poor communication link.
"In the monsoon, we have to come to school on a boat. Now, we are to traverse along a muddy path to attend classes," Arifa said.
Contacted, Khondokar Mahabub Hossain, Chatmohor upazila primary education officer, said that the development project of the school was in the offing.
"The school was nationalised in the third phase. We have already visited the school and found the existing problems. We have already reported the matter to the DG office. The authority will take development initiative of the school soon," Hossain said.
"We have already planned to allot Tk three lakh this fiscal year for administering urgent repair work of the school," he claimed.