Mental Health Strategic Plan: Social movement, govt effort crucial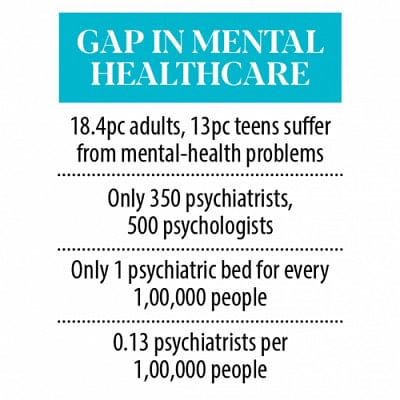 We did not have any strategic action plan for mental health. Now we have one. We need a conducive environment for people's mental well-being, which is not the health directorate's job alone.
An inadequate workforce, poor budgetary allocation and lack of awareness have left most (92 to 94 percent) people suffering from mental illnesses without any treatment, said speakers at an event yesterday, citing "National Mental Health Strategic Plan 2020-2030".
To bridge this mental healthcare gap, there is a need for social movement and the government's effort, they said at the dissemination event of the plan.
"We have to bring a change in our attitude [towards mental health]. Any health plan or the health directorate or the ministry cannot do it alone. We need individual and collective effort as a nation," said Saima Wazed, lead consultant and chief adviser of the plan's working group, during her keynote speech.
Stressing on the proper implementation of the action plan, she said, "We did not have any strategic action plan for mental health. Now we have one. We need a conducive environment for people's mental well-being, which is not the health directorate's job alone."
Dr Helal Uddin Ahmed, associate professor of child, adolescent and family psychiatry at National Institute of Mental Health, presented the action plan at the event.
Highlighting the context, he stated that some 18.4 percent of the adult population and 13 percent of adolescents suffer from mental-health problems. Due to mental illnesses, some 10,000 to 14,000 people have died by suicide in the country.
"However, there are only 350 psychiatrists and 500 psychologists to serve this huge number of people suffering from mental health issues. The treatment gap is huge," Helal said.
Besides, most mental-health facilities are clustered in urban areas, particularly in metropolitan cities.
According to the action plan, the density of psychiatric beds in or around the capital is five times higher than that in the entire country, even though 70 percent of the Bangladeshi population live in rural areas.
Unlike countries in the European Union, there appears to be hardly any substantial mental healthcare service available at primary or secondary health facilities in Bangladesh.
Of all psychiatric beds available in community psychiatric units and mental hospitals, Bangladesh has only one psychiatric bed for every 100,000 people, which is significantly lower than 52 beds for every 100,000 people in EU countries.
There were 0.13 psychiatrists per 1,00,000 people in Bangladesh compared to 12.9 for 100,000 in EU countries.
Helal also stated that less than 1 percent of the annual health budget is allocated for mental health, and medical training institutions keep less than 5 percent of the curriculum to teaching health professionals about mental well-being.
The new action plan was adopted to address these issues with four strategic actions, which include strengthening effective leadership and governance for mental health and well-being; providing sustainable, comprehensive, integrated and responsive mental-health and social-care services at all levels; implementing strategies for mental health awareness and risk reduction for mental-health conditions; and strengthening information systems, evidence and research for mental health.
Speaking as chief guest, Health Minister Zahid Maleque said, "We will try to increase budgetary allocation as well as the workforce for the mental-health sector. There is no room for taking the issue lightly."
High officials from the health ministry, the health directorate and other organisations also spoke at the event.