Mayoral candidates get symbols, begin campaigning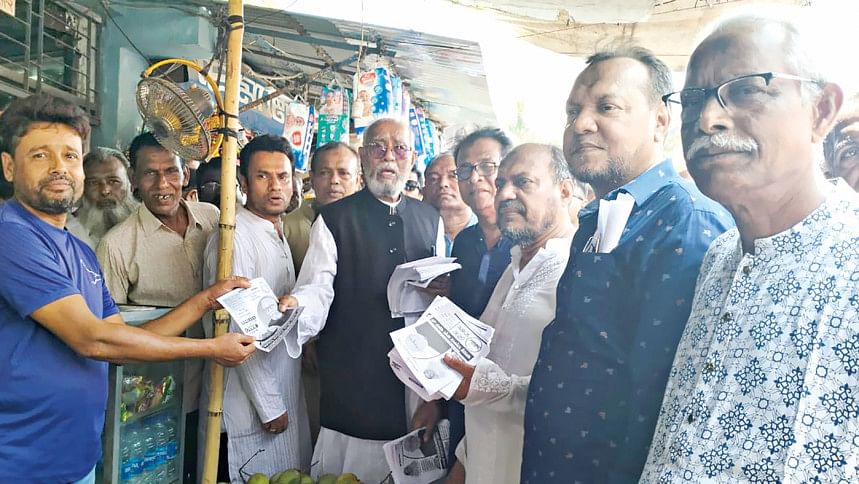 All mayoral candidates have initiated their election campaigns after receiving symbols from the returning officer's office yesterday morning, signalling the start of the campaign for the upcoming Khulna City Corporation election scheduled for June 12. 
The candidates and their symbols are -- Awami League's Talukder Abdul Khaleque (boat), Jatiya Party's Shafiqul Islam Madhu (plough), Islami Andolan Bangladesh's Maulana Abdul Awal (hand fan) and Zaker Party's SM Sabbir Hossain (rose).
Talukder Abdul Khaleque, while starting his campaign, expressed his commitment to respect the will of the people. He cited his past efforts in the development of the region under the Awami League government and highlighted the ongoing development work worth Tk 1,400 crore, emphasising that the city would become a model upon its completion.
"I will actively listen to the opinions and expectations of the city's residents and address their demands. Despite the time constraint of covering all 31 wards, I will try to visit every voter's home personally," he said.
Shafiqul Islam Madhu, the Jatiya Party candidate, expressed concerns about the fairness of the upcoming election. He remarked that fair elections would only occur if the ruling Awami League government desired.
"Citizens had been deprived of their right to vote in all previous elections, from Union Parishads to Jatiya Sangsad," he said.
Madhu called for a reversal of the fear among the people that might lead to low voter turnout and expressed doubts about the Election Commission's strength, which he believed would impact the election environment negatively.
 "I plan to kick-start his campaign from ward 1," he said.
Abdul Awal, the mayoral candidate from Islami Andolan Bangladesh, voiced his intent to transform the city into a modern, pollution-free space. He urged city dwellers to support their cause through voting and called for united opposition against corruption and misrule, encouraging everyone to be present at the poll centres.
SM Sabbir Hossain, the mayoral candidate from the Zaker Party, received the rose symbol and began his campaign around 12:15pm. He assured that his campaign would adhere to the electoral code of conduct and expressed optimism about the favourable election environment.
Returning Officer Md Alauddin disclosed that 12 councillor candidates had withdrawn their nominations, resulting in a competition among 179 candidates for the posts of councillors.
 "Four candidates are vying for the mayoral post, while 39 candidates are running for the reserved councillor position. Meanwhile, 136 candidates are competing for general ward councillor seats. The election will employ Electronic Voting Machines (EVMs), and to ensure fairness. CCTV cameras will be installed at 289 centres and 1,732 polling booths," he said.
Khulna Metropolitan Police (KMP) has identified 128 poll centres as normal and 161 as vulnerable out of the total 289.